Joe Larkin Surfboards
1961
28 Miles Street, Kirra Qld
Shaping : Bob Ryan (Boganbar Bob) and own model.
Glassing (and shaping?) :Joe Larkin
... ex- Barry Bennett Surfboards

1962
Shield Decal as foil adhesive.

1964
Joe Larkin is Queensland team manager to the World Contest, Manly.

1965
Shaper : Brian 'Furry' Austen (later Goodtime Surfboards)
Glasser : Peter Thomas - "better than Cooper."
Sander/Glasser : Vic Preston
Guard dog : Jim Spriggs

1966
Long diamond decal, see image below.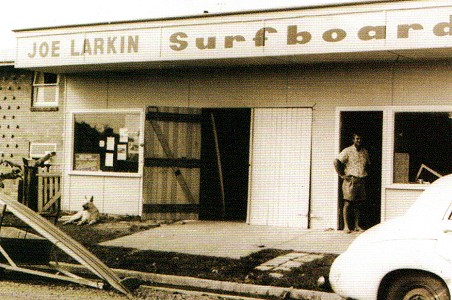 Joe Lakin Surfboards Factory, Kirra, 1962.

- Jennar:
Surfer'sTextbook
, page 78.
1969
Shapers : Graham Black, MP, Terry Fitzgerald, Gordon Merchant, Peter Townend,
Black Tracker -
Graham Black Model
1970
Gold Label - Special Custom Model by Brian Austen
...
"our top shaper" .
Ski Free
Model
circa 1973
Business closed.
Undated Shapers
Darrell "Rooster" Dell, Garry Birdsall, Mick Dooley, Andrew Mc Kinnon, Michael Peterson.
Undated Workers

Dave McDonald
Reference :
Mal Sutherland and Bevan Bache :
Legend Larkin
(Joe Larkin Profile)
Pacific Longboarder
2003 Vol 7 #1 pages 36 to 45.
Michael Peterson and Larkin Surfboard, Bells Beach, circa 1970.
Photograph : Alby Falzon,
Tracks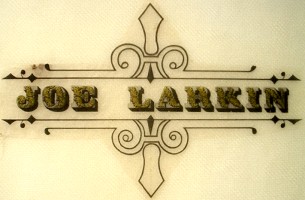 Joe Larkin Surfboards
: Scroll decal,
circa 1968.
Decal image contributed by Jim Swinton, February 2006.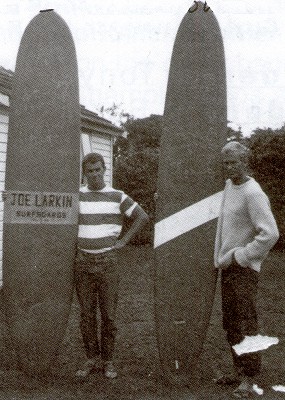 Joe Larkin and Friend, Kirra circa 1962.
Beyond The Green Room
, page 25.