George Rice Surfboards
1962 - 1970
56 Arthur Street Fairfield, Victoria. 48-8585
213 High Street, Preston 1963?
672 Waterdale Road, West Heilberg. 459-1198
410 High Street, Northcote Vic. 409-2732
513 Nepean Highway, Bonbeach 772-5146
George Rice was Victoria's largest manufacturer in the 1960s.
Some decals contributed by Snazzy.

This surfboard is not symmetrical.
The plane shape of one side is completely different from the other side.
The bottom of the speed side is concave for power turns and the other rolled up for easy cut-backs and re-entries.
Big wave performer Terry Wall hopes to win the Australian Championships at Bell's Beach on this board.
Last year he finished second to the World Champion in the Bell's Open.
It is the most radical, but only one of the many new shapes being developed at George Rice Surfboards.
Peter Troy and Rod Brooks have both won their last two contests in Victoria on a George Rice Competition Model Hot-Dog Board.
Enquire now about our Competition Model ó $94.00 Custom Built. Standard Modeló$88.00.


GEORGE RICE SURFBOARDS
673 Waterdale Road, West Heidelberg, Vic, 4591198 and other agencies.
Graham Halandall,

3 Sherwood Drive, Oaklands Park, S.A.

Surfing World
, November, 1966,
Volume 8, Number 4, page 20.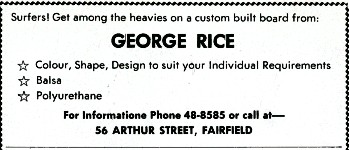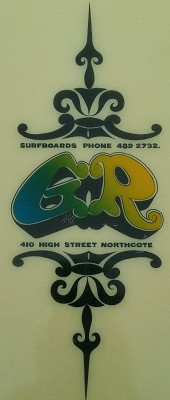 1968
Decal thanks to Snazzy, February 2019.