Ziegler Surfboards
Sunpatch Road, Mogo, NSW.
Princess Highway, Mogo. NSW. 2536
Phone (044) 72 5289.
15 Clyde Street, Batemans Bay.
1974?
Shapers : Hillary Ziegler,
Zig and Graham
1975
Warren Newton
1976
(Behind the Tama Surf Shop, Batemans Bay)
Shapers- P. Heyes, G. Burns, H. Zeigler, Brian Cregan.
Available Quill Aquatics, Canberra, and Tama Surf Shop, Batemans Bay
- Breakway, April 1976, Number 29, page 2.

Ziegler Surfboards decals, contributed with thanks by Steve Geissler , February 2006 - 2011.


Reported, with thanks, by Jason Culton, 2005....
I found a Ziegler surfboard under my parents house recently.
I'm enjoying bringing it back to useable condition so I can ride some waves 70's style!
The board was my uncle's, who mostly surfed in Western Port Bay and the Mornington Peninsula in Victoria, Australia.
The board was shaped by 'Zig & Graham'.
The entry was listed as Melbourne, Victoria ?

Steve Geissler reported, Jan 2006...
Just to let u know Ziegler Surfboards were made @ Mogo NSW. 50 km south of Batemans Bay
I still have my old 6'2 thruster 1983 if you would like some photos.
Steve subsequently supplied the board and decal images which are posted here - many thanks.


Entry updated, and address confirmed from advertisement SW Magazine 1980 Volume 29 Number 1.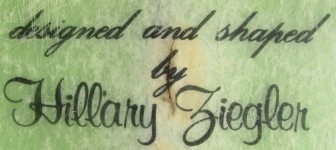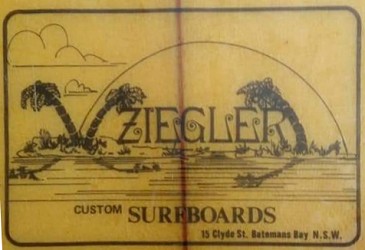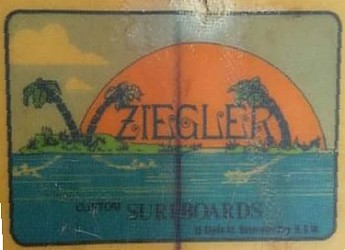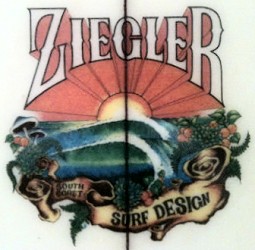 1975

Warren Newton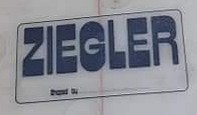 Decals courtesy of Snazzy
,
2020.