surfresearch.com.au
---
---
surfresearch.com.au

manufacturers : san juan surfboards

---
---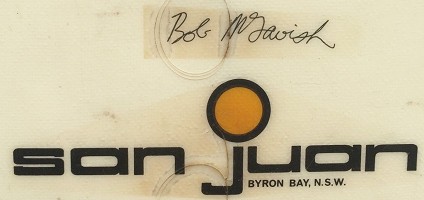 ---
San Juan Surfboards @ www.maddog.com.au
---
A dynamic company at the forefront of design 1966 to 1976 with a famous catalogue of house and visiting shapers.
The decal Dot design has strong association with previous employer, Hayden Surfboards.
circa 1958
Ken Adler began surfing at Coolangatta Queensland on a used hollow timber board

circa 1959
Second board, Balsa wood/fibreglass board supplied by Roger 'Duck' Keiran

circa 1960
Joins Kirra Surf Life Saving Club

1962
Competitor first Queensland State titles, Midget Farrelly a Judge.
With father, Frank Adler, begins retailing Sydney boards from home in Camp Hill, Brisbane.

circa 1963-4
First trip to North Shore, Oahu. Surfboard by Midget Farrelly.
Shares house at Sunset Point with Robert Connelly, Doc Spence and others.

1965
Finalist, Peru World Surfing Championships, won by Felipe Pomar.

1965
Travels to California with Mike Doyle to work as a shaper at Hansen Surfboards, Encinitas.

circa 1966???
Ken Adler shaping at Hayden Surfboards, 164 Alexandra Parade Alexandra Headlands Queensland.
Co-workers include Robert Conneely, Darryl 'Rooster' Dell, Russell Hughes, Bob McTavish, and Terry McClarty (shaping, glassing and Greenough spoons).
Some of these would later shape at San Juan Surfboards.

1966
San Juan Surfboards,
PO Box 107 NSW
Ken Adler, Bob McTavish, Wayne Lynch, Russell Hughes , John Thomas;

circa 1968
San Juan Surfboards,
91 Johnson Street Byron Bay NSW phone (066) 85 6395
Ken Adler, Bob McTavish, Wayne Lynch, Russell Hughes , John Thomas;

1969
Wayne Williams

:

learnt to shape by Bob McTavish from when he was 16 in Byron Bay.
Contributed, with thanks, by Buffy Williams-Robinson, 12 January 2005.
See Wilderness Surfboards

1973
Peter Cornish, Bob Rasby.

1976
Frank Latta
Neal Purchase

1977
John Blanch and Nat Young

1979
Tony Cerff, Brian Ingham and Peter Cornish

1982
Frank Latta - Simon Anderson 3 Fin Thruster
Latta had just left the Energy factory at Brookvale and, with Simon's approval, produced a number of Thrusters with the Simon Anderson 3 Fin decal at San Juan and Jet Surfboards, Byron Bay.



circa 1985
The Label was made by a various shapers out ot the Mad Dog Surfboard factory, Byron Bay.
Dennis Anderson
Neal Purchase
Brad Mayes

---
Catalogue Entries
---
1976




San Juan Pintail 6 ft 9"




John Blanch
---
1993




San Juan Mal 9 ft 1"




Denis Anderson
---
1973
San Juan - Nat Young Surf Design Square tail 6 ft 8"
Shaped by Nat Young
---
| | |
| --- | --- |
| not to scale | 1979 San Juan Rounded pintail 6ft 5'' |
---



Left:


San Juan wide tail by Frank Latta and Nat Young

Backhand

model, circa 1974.

---
References
Chris Brystrom : Ken Adler in Pacific Longboarder Vol 1 No 2 199 pages 62 to 66

---
Advertisement 1967
---
San Juan Surfboards Advertisement
Surfing World August/September circa 1967.
Note:
1. Address PO Box 107 Ballina - pre move to Byron Bay and no phone number.
2. Unusual double stringer board at rear.
3. Radical fin template (low area sliding fin ?) on bench, left rear.


---
Decals and Other
---








1986




1984

1990

San Juan Performer, 2005.




1990


---
Ken Adler, Peter Xxxx, Bob "The Yank"' Xxxxx.
91 Johnson Street Byron Bay NSW, 1969
Pacific Longboarder Vol 1 No 2 199 pages 62 to 66
Ken Adler Collection.

Notes (boards from left to right) :
1. Estimated lenths 6 ft 6'' to 7 ft 6''
2. Board 3 Tinted?, Board 4 Coloured with deck patch and pinlines, others clear.
3. Board 4 possible Side Slipper design
4. All stringered, 50% Square tails and 50% rounded pintails.
---

Tracks
Number 17 page 22
February 1972.
---
---
---
Geoff Cater (2000-2019) : Catalogue : San Juan Surfboards.

http://www.surfresearch.com.au/msan_juan.html