39 Winbourne Road Brookvale NSW
93-9221
1970, August 11
Geoff McCoy;
Mal Hockley - noted by Shauno, March 2006.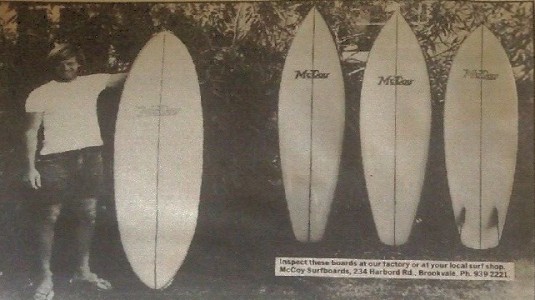 Area Back 6ft x 20.25", Speed 6ft 6"x19", Semi-Speed 6ft 2"x19.5", Speed Twinfin 6ft1"x20".

Tracks

September 1971



1972, Tracks November page 16:
Geoff McCoy
Mal Hockley
Jim Beardsley
John Otton
Peter Lawrence
Barry K Designs available and Swallow tails.
1972
Col Smith Model
Noted : # 1255, 6ft 4" X 19 1/4" X 3"
Left : Col Smith Decal
contributed, with thanks by Jordon, January 2006.
Twin Fin 1
Tracks July 1972, page 4: Bondi guys
1973
It has been claimed that: The Frozen D (Frozen Daffodill) model was Geoff McCoy's sledge directed at Terry Fitzgerald's Hot Buttered brand in the early 1970's.

1974
and Victor Ford.
Reno Abellira, Barry Kanaiaupuni and Mark Richards models

April 1974
Avoca Beach NSW-
Brookvale show room at Gordon Woods, Harbord Road.
Reno Abellira, Barry Kanaiaupuni, Geoff McCoy,
Riders: Dappa Oliver, Ron Ford, Mark Warren, Bruce Raymond, Steve Jones, Mark Richards, John Harris, Steve Corrigan.
Tracks, April 1974

1976
and Skipp Lindfield, Tony Wright and Eric Taylor ;
Lazer Zap (Cheyne Horan)

1978
Larry Blair Model
Darren Rodgers



circa 1979

surfblank phenolic:
by
Midget
Farrelly
Blocked decal, right.
Photograph :
Sydney Surf Auction
,
Mona Vale Hotel, Sydney, 30 October 2005
Catalogue No. 108.
Thanks to Mick Mock
1983
Matt McDermott.
Decal courtesy of Dave McDonald, November 2016.
1988
Tri Zap
circa 1990
Acacia Drive Byron Bay NSW
The Nugget
Thanks to Geoff McCoy
#40,
#112
Mark Warren and McCoy Twin fin, Single Fin Egg in the background.
Tracks
December 1970, Number 3 page 14.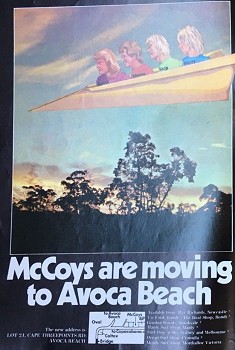 Surfing World v
19 n5 1974 May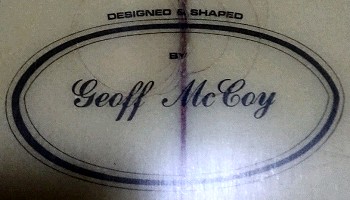 1975