Peter Clarke Surfboards
53 Bay Road Taren Point NSW
Peter Clarke was Norm Casey's Sydney accountant who took over the business circa 1965 when Norm pursued his career in the aviation industry.
-noted by Dave Wilson in conversation, May 2009.
See Norm Casey Surfboards
1964 ?
Keith Paull;
1965
Keith Paull, Warren Cornish
1967
Kevin Parkinson (1966: NSW Junior Champion, 3rd Bells Beach)
1968
Stringerless vee-bottom with double chamfered tail by ?


Noted: 7ft 6" stringer-less pintail, fin box,

marked:

Jl


Nov 1969
adds Northside factory at 20 Carter Road, Brookvale.
- Advertisement
Surfing World Vol 9 No 6, Nov1969.
Baron Surfboards also produced by the same company, the factory across the road from the Clarke premises.

1970 Persian Slipper model, Side-Slipper design
53 Bay Road Taren Point and Corner Powell and Mitchell Road Brookvale
Surfing World Volume 13 Number 4 1970

1974 The Savage model- swallowtail with Native American Indian decal

1975
Geoff Solness and Greg Melluish;

1976
and Rob McLaggan,
Peter Collins

Discontinued production circa 1976 when the factory burnt down.

Below: Peter Clarke reversed chamfered pod, 1968.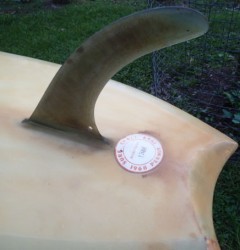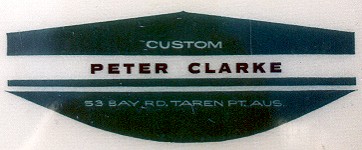 Early decal circa 1963
Adapted from the previous factory manufacturer
- Norm Casey Surfboards.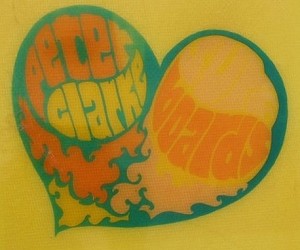 Keith Paull Happening
Infitity graphic, circa 1967.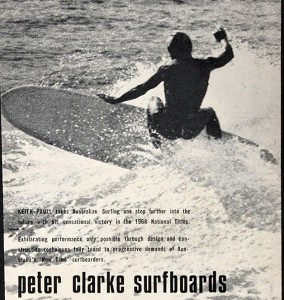 Peter Clarke Surfboards, featuring 1968 Australian Champion, Keith Paull.