Skipp Surfboards
1964-1965
Paul Holmes: How long have you been making surfboards in Wollongong?
John Skipp: Seven years this time.
I had ago in 1964, but I gave it up after a year because no one was surfing in winter.
(In 1969-1970, I started) a surf shop ... selling everyone else's boards ... that wasn't where it was at, so I started making them again.
- Tracks, September 1976, page 14.

1970
See Skipp-Williams Surfboards, below.
24 Flinders Street Wollongong NSW
Phone 228
1975
and Paul Nichol, Phil Byrne, Dave Byrne, Terry Richardson, Terry Cooper and Chris Horne ;
1977
Kevin Parkinson, Paul Nicol and Richard Palmer
1979
and Terry Richardson ;
1980


Ed Sinnott


Frank Latta
Greg Chapman



1985


Edd Sinnott's Hydro force model (3 fin, channel bottom)
Factory glassing

Skipp decal, right, courtesy of Dave Hughes, May 2009.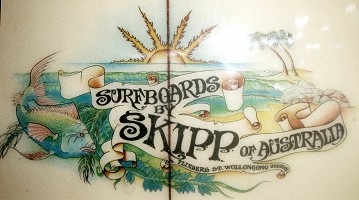 Skipp decal
, courtesy of Dave Hughes, May 2009.

Skipp block decal, 1985.

Skipp: Hydro-Force decal, 1985
.