Sky Surfboards
3 Banksia Sreet, Byron Bay NSW
1972
Owned by Geoff Hears and the first shaper was Chris Young, younger brother of Nat.
Chris used the first Sky decal complete with the Julian Rocks at the top. Thereafter these were regularly cut from the decal, notably on the boards shaped by Michael Cundith, mostly initialled M.C.
- decal and edited notes by Jason Connell, March 2017.
1974
Michael Cundith
1976
Bob McTavish
Early shaper's decals as Bob Mac Tavish:
The first print run got the spelling wrong so we had to run with it for two weeks till the new logo was ready.
Only about ten boards made with the added a.
- Bob McTavish, March 2017.
1977
Michael Cundith and Chris Brock ,
1979
and Greg Melhuish: Clear Line
Rodney Dahlberg, Robert Fenech*, Gary Timperley, and Bruno Buzzolan.
Glassing by David Kelly
* Spelling adjusted April 2011, thanks to Wayne French.
1980
Rob Fenench: Suffolk Snakes (Twin-fin)
1982
Neil Cormack, Darryl Bulger


1983


Sky-Natural Flite shaped by Greg Melhuish


1986


Garry Timperly, Twinzer
2010
Neil Cormack.


Sky: Glassed by David Kelly,1979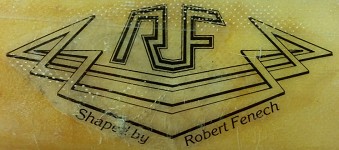 Sky: Shaped by Robert Fenech, 1980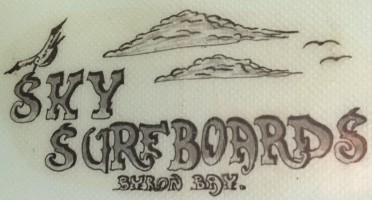 Sky Surfboards, 1972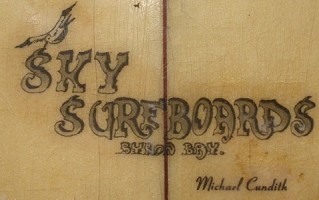 Sky Surfboards, Michael Cundith, 1972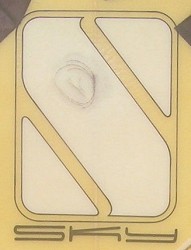 Sky Surfboards, 1985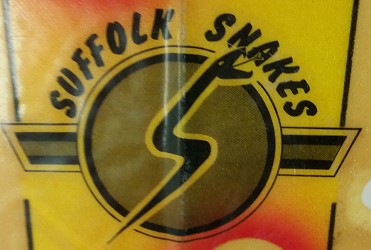 Sky: Suffolk Snakes
(Rob Fenench), 1980

Sky: Clear Line (Greg Melhuish), 1980