surfresearch.com.au
---
---
surfresearch.com.au

manufacturers : keyo surfboards

---
---
Nat Young riding a Keyo surfboard at Dee Why.

Surfabout Quarterly
Vol 1 Number 1 August 1962, page 7.

Note this logo includes the silhouetted surfboard,
similar to the original Hobie Surfboards decal.



---
A major manufacturer, the company maintained a high standard and a quality stable of shapers 1961- 1974.
Originally started by Dennis (Denny) Keogh, the label was at the cutting edge in surfboard design 1965 to 1970.
The securing of the Hobie Cat franchise in 1969 quickly saw the company divert its resources to this expanding market at a time when the surfboard industry was experiencing one of its many unheavals.
Like many Australian decals the company logo is a copy of an American design, in this case Hobie Surfboards.
The design was later used by Geoff McCoy when he left Keyo Surfboards and started his own company.
One of the Brookvale Five - manufacturers with national sales and reputation in the ten years 1962 to 1972.

---
ABOUT KEYO SURFBOARDS

In 1957 a young Denny Keogh started shaping surfboards from a garage, and officially opened the Keyo Surfboard factory and retail shop in the Northern Beaches suburb of Brookvale in 1959. A neighbourhood that quickly became the countries surfboard manufacturing hub.

Midget Farrelley, winner of the 1962 Makahah international, was the first surfboard shaper brought in to help with the workload.
Denny in fact shaped the board that Midget rode to victory in the first World Surfing Championships, held at Manly Beach in 1964.

Bob McTavish joined Keyo in 1967 where he shaped the first Vee-bottom a wide backed nine footer that kicked off the short board revolution.
The McTavish designed Keyo Plastic Machine Vee bottom models were soon selling at the astonishing rate of 70 a week.

In 1968 Nat Young came on board and with his high profile they produced another popular model, the Nat Young Tracker.

Later that year the Keyo factory burnt to the ground, but was quickly re-opened in the premises behind the gutted factory.

Other high profile shapers to work under the Keyo label were guys like Kevin Platt, Neil Purchase, Geoff Mc Coy, Col Smith, Phil Cooper and Mickey Mac.


Some classic Keyo models are the Keyo International, Tailor Made, Plastic Machine, Kevin Platt Model, Egg, Side Slipper and The Virgin.

In 1972 Denny acquired the Hobie Cat franchise and began building the catamarans. By 1974 the production of Keyo surfboards stopped giving way to the high demand of the popular Hobie Cat.

- keyointernational.com, viewed 11 January 2014.
http://www.keyointernational.com/about

---
1959
19 Sydnenham Road Brookvale NSW Phone XF-1699
Denny Keogh; fibreglassed foam blanks, some balsa?

Right: Denny Keogh outside Sydnenham Road, Brookvale, factory, circa 1960.
Image courtesy of Keyo International.

1962
With increasing demand, 1962 Makaha winner (, Midget Farrelly, was one of Keyo's earliest shapers.
(Note that the final was actually held on the 1st January 1963.)

He was followed by Gary Birdsall who:
"Started at Norm Casey Surfboards, Rockdale.
Then to Keyo Surfboards, Brookvale, circa 1962, where learnt shaping from Midget Farrelly.
Shapes included Midget's post Makaha Contest win International Custom model.
With financial backing by Peter Clarke, opened Wollongong shop, opposite to Byrne Surfboards current shop at Fairy Meadow.
Small number of boards produced here, later to Kenn Surfboards, Queensland."
- personal interview, 13 December 2003, thanks to Gary Birdsall.


1963
The International Custom decal featured the Makaha International Trophy, a clear reference to Midget's Makaha win.

Keyo Advertisement, 1963.
Surfabout
Volume 1 Number 5.

Keyo dealers in 1963 included Tony Olsson in Melbourne, who would manufacture boards there in the late 1960s, and Alby Falzon at The Entrance,.
Falzon would later produce The Morning of the Earth (1972).

---
1964
Midget Farrelly wins the first World Surfing Championships, held at Manly Beach, on a Keyo shaped by Denny.
Around this time, Keyo also manufactures and markets the Midget Farrelly Competition Design Surf Skate(board).

Right: Keyo Surfboards and Midget Farrelly Surf Skate advertisement, circa 1964.
Image courtesy of Keyo International.

1966
Tailor Made by Bob McTavish boxed decal, noted.


---
1967
Bob McTavish Plastic Machine
Kevin Platt Model
Advertisement, right:
Keyo Surfboards
19 Sydenham Road, Brookvale, Phone: 93 1699
Surf International
Volume 1 Number 1, December 1967, page 4.

---
1967
December Bob McTavish surfs his Keyo Stringerless Vee bottom Sunset Beach (Duke contest) and later at Honalua Bay, Maui. Extensive coverage in magazines and film. See The Hot Generation Part 6, and The Fantstic Plastic Machine.
Other Keyos are Nat Youngs' Deep Vee and Ted Spencer's Little Red.

1968
Manufactures/distributes? SafeSet Fin boxes, a copy of the WaveSet design.
Geoff McCoy

---
In early the summer of 1967-1968 the Keyo factory burnt down, but was quickly re-opened in premises behind the guttered factory.


Advertisement: Keyo Surfboards - Business as Usual.
Surfing World
Vol. 10. No. 3 , page 36.
March 1968.

In the next issue Surfing World (Vol. 10. No. 4 April 1968, page ?) reported the Keyo fire and also noted, "coincidentally within a few hours of each other, though more than 600 miles apart", the gutting of the Klemm-Bell Surfboards factory in a suburb of Melbourne.

IT TAKES MORE THAN A FIRE

... Right around the back is a brand new set-up,
functioning with all the design, brilliance and
construction detail that puts KEYO apart.

WE STILL DON'T BUILD SURFBOARDS ~~
... WE CREATE THEM !

KEYO Surfboards

19 Sydenham Road,
Brookvale. 93 1699
---
1968
Nat Young;
Kevin Platt
Denny Keyo
Neil Purchase

Advertisement: Keyo Surfboards, Nat Young, Youngblood, and Tracker, 1968.
Surf International
Volume 1 Number 10 page 47.
October 1968.
---
1968
Dick van Straalen,
Phil "Monkman" Cooper

1969
Peter Cornish,
Geoff McCoy,
Hobie Cat franchise

1970
Col Smith (NN), Twin Fin 1
Jim Beardsley, Twin Fin 1 -Tracks Number 4, January 1971

1971
Neal Purchase

Errata
Jess Keogh emailed August 2006 -
"Just A quick note to inform you of an error in your website. Keyo surfboards was established by Dennis (Denny) Keogh not Danny Keogh. Awesome site though."
Thanks to Jess Keogh for the spellcheck (and the compliment).

---
Catalogue Entries
---
1966 Keyo Malibu
9 ft 5"
- Thin rail
1968 Keyo Tracker
7f
- Bob McTavish
1969 Keyo Egg
5 ft 8 1/2
- Geoff McCoy
1969 Keyo Side Slipper
6 ft 2 1/2"
- Steve Lennard
---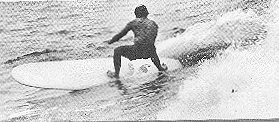 Bob McTavish/Keyo Surfboards Plastic Machine.
Cut back, Long Reef Sydney circa 1967.
Photograph by Jeff Carter.
Surf Beaches, page 67
---
Advertisement : 1964
---
Notes :
1. Original logo includes the silhouetted surfboard, as in the original Hobie Surfboards Design.
2. The photograph, uncedited, features a young Nat Young at Dee Why Point.
He probably wss not sponsored by Keyo Surfboards at the time.
---
Decals and Other
---





Keyo Advertisement, 1963.
Surfabout
Volume 1 Number 5

Keyo International Custom Surfboards, 1963.
Scalloped diamond, black script
with Makaha International Trophy image.
An obvious reference to Midget Farrelly's Makaha win,
1st January 1963.

Keyo Yellow script

Hobie Surfboards script and diamond with silhouetted surfboard, circa 1960.

Left : Nat Young and Keyo 8 ft Tracker, Malibu Summer/Mid-Later 1968
Photograph : Leroy Grannis
The Australian Surfer's Journal Vol 1 # 4 Spring 1998 page 93

Yellow script with black text and box.


Keyo red script,
this board shaped by Geoff McCoy

.

McCoy label circa 1970

f

Image left,
Plastic Machine Red Circle, 1967.




Image left,
Kevin Platt Model, Keyo Surfboards, 1967.

1963 Keyo International Custom 9ft 9'
'
1967 Keyo Plastic Machine
7 ft 7"
---
| | |
| --- | --- |
| | Keyo Standard, 1971, decal forwarded by Lex, March 2014. |
---
Image left:
Sydney surfboard industry representatives donate
surfboards to Australian
servicemen in South Vietnam,
July 1966.

Photograph courtesy of
Dennis McDonagh.
---
From left to right...
Mr. Platt: Platts Boardshorts, first local surfwear manufacturer.
Denny Keogh: Keyo Surfboards
Colonel P. Trancred: Australian Army.
Scott Dillon: Scott Dillon Surfboards
Bob Brewester: Manly Stor-a-Bord and Bower Boy Surf Wax.
Gordon Woods: Gordon Woods Surfboards
Denis McDonagh: McDonagh Surfboards
Bill Wallace: Wallace Surfboards
Barry Bennett: Barry Bennett Surfboards
Also see photograph: Australian War Memorial (SMT/66/01179/EC)
The photograph was circulated with the following press release:
---
SMT/66/179/EC July 1966
Nearly $500 worth of surfboard equipment, given by seven manufacturers, was handed over to the Australian Army on behalf troops in South Vietnam, at Victoria Barracks, Paddington, on Wednesday, July 20.

The equipment was received by the Acting Chief of Staff (Colonel P. Tancred).
Pictured receiving the boards, Colonel Tancred thanks Denis McDonagh (McDonagh Bros Surf Boards Pty Ltd, Harbord Road, Brookvale) , on behalf of the manufacturers.

The manufacturers with their gifts from the left are,
Messrs Lance Platt (L. and J. Platt, Surfrider Board Shorts, of Foam Street, Harbord),
Danny Keogh (Keogh Surf Boards Pty Ltd., of Sydenham Road, Brookvale) ,
Scott Dillon (Scott Dillon Surf Board Pty Ltd, of Vlinbourne Road, Brookvale),
Bob Brewster (Manly Surf Shop and Stor-A-Bord, Pittwater Road, Manly),
Grodon Woods (Gordon Woods Surf Boards Pty Ltd, Harbord Road, Brookvale),
Bill Wallace (Wallace Surf Boards, Winbourne Road, Brookvale),
Barry Bennett (Barry Bennett Surf Boards pty Ltd, Harbord Road, Brookvale).

Text courtesy of Dennis McDonagh.

---
---
---
Geoff Cater (1999-2014) : Catalogue : Manufacturer Index - Keyo.

http://www.surfresearch.com.au/mkeyo.html