Joe Larkin Surfboards
1961
28 Miles Street, Kirra Qld
Shaping : Bob Ryan (Boganbar Bob) and own model.
Glassing (and shaping?) :Joe Larkin
... ex- Barry Bennett Surfboards

1962
Shield Decal as foil adhesive.

1964
Joe Larkin is Queensland team manager to the World Contest, Manly.

1965
Shaper : Brian 'Furry' Austen (later Goodtime Surfboards)
Glasser : Peter Thomas - "better than Cooper."
Sander/Glasser : Vic Preston
Guard dog : Jim Spriggs

1966
Long diamond decal, see image below.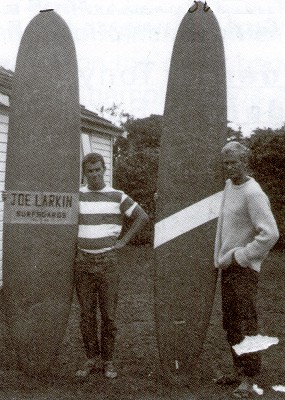 Joe Larkin and Friend, Kirra circa 1962.
Beyond The Green Room
, page 25.