surfresearch.com.au
---
---
surfresearch.com.au

manufacturer index : w
---
---
Wakefield Surfboards
Granville NSW
1976
Geoff Wakefield, Tony Feller and Phil Heaton
1978?
Parramatta
Also see Geoff Wakefield Surfboards and Saltwater Surfboards.
1974
Carabine Kneeboard Fin
& Aluminium fin box
Fin
8'' x 3 1/2'' base x 10'' span @ n/a
Aluminium fin box 15 1/2''
by Wakefield Surfboards
Granville NSW
Dimensions and photographs at
Surf's Up At Gerringong Board Display, August 2005.
Thanks to Scott Andrews

---
---
Wally Carle Surfboards
10 Angle Road Grays Point, NSW
Phone: 524 2556
Central Coast: Phone Terrigal 508
1959
Wally Carle
Right: Wal Carle Surfboards, circa 1961.
Image contributed by Julia Carle, June 2010.(?)

Wally Carle was the featured surfer on the cover of the first edition of Jack Eden's Surfabout,
Volume 1 Number 1, August 1962.
Photograph by Jack Eden.
Below, right.

Surfer identified by Julia Carle by a phone call, August 2010.
Many thanks to Julia.

Advertisement, right:
Wal Carle Surfboards
Surfabout
Volume 1 Number 1 August 1962, page 32.
This photograph of Wal Carle was printed below the advertisement on the same page, below.




---
---
---
Walsh Surfboards
1970

Click Walsh decal for Catalogue entry #71.

---
Walton's Surfboards
1964
Malua model.
Said to be manufactured by Scott Dillon Surfboards, Brookvale.
Possibly others.

Adhesive metal decal image courtesy Mick Mock,
Surf Auction, Novemvber 2011, #44.




---
Warren Surfboards
22 Gweno Ave Frankston Victoria
1978
Warren Partington
---
Warren Cornish Surfboards
1971
Warren Cornish Surfboards at Suffolk Park, Byron Bay.
1974
PO Box 171 Byron Bay, NSW.
Australian Championship Model Designed and Shaped by Michael Peterson.
Image right contributed by George S., June 2007.
Da Sting Model designed by Mark Richards, see below.

Hibiscus decal, circa 1976, contributed with thanks by Baron T., May 2012.

1977


PO Box 150 Byron Bay.

Industrial Estate Byron Bay NSW
Shapers :Warren Cornish; Bob McTavish, Tony Cerff and Brian Ingham
Glasser : Bill McClean
Spray : Shane Egan
Designs Richard Brewer, Mark Richards, Bob McTavish, Warren Cornish
1979
See Pacific Foam Systems


---
---
Warren Cornish
Started surfing 1956, Bondi Beach, aged eight.
New board -1957 Wallace balsawood square tail, 7 ft (Bill Wallace's smallest board to this date)
1959 Gordon Woods balsawood Pig, approximately 8 ft
First manufacturing at Keen-Davis Surfboards, North Sydney
He, along with other Bondi surfers Kevin Brennan, Frank Pickford and Mick De La Rue, answered an add for experienced workers, despite having only previously repaired dings.
Other employees included Gordon Merchant.
The company ceased surfboard production circa 1964.
Shaped at Gordon and Smith Surfboards, Caringbah circa 1965 with Keith Paull
Apprenticed by Midget Farrelly at Palm Beach circa 1967
Partner with Midget Farrelly in Farrelly Surf Systems Pty Ltd at 230 Harbord Road Brookvale Sydney , circa 1969 to 1971.
1971 Warren Cornish Surfboards at Suffolk Park, Byron Bay.
1974 Warren Cornish Surfboards at Industrial Estate, Byron Bay.
1974 Purchases the rights to Bob McTavish's name, for $1200.00 and produces Bluebird Surfboards
1976 Skateboard manufacture.
1978 Sailboard manufacture
Reference : Pacific Longboarder, January 2003, Vol 6 No. 3 , pages 36 - 39

---
Cornish-Richards Surfboards
1974
Industrial Estate, Byron Bay.

---
Warren Partington Surfboards
1974
Warren Partington


---
Warrior Surfboards
1972
???
Decal contibuted by Brett, November 2010.

---
Water Cooled Surfboards
114 Coolong Road Torquay, Victoria
1976
Kym Thompson;
1977
and Alan Rowsell and Kim Potter;
1979
Maurice Cole, Michael Anthony and Doug Rodgers;
Image right contributed by George Sanders, August 2008.

Decal image circa 1982, below, contributed with thanks by Snazzy,
December 2010.

---
Water Force Surfboards
Carringbah?
1982

Huzza Wazza model - Richard Herbert (#562)



---
---
Wavecraft Surfboards
Bawley Point, NSW.
1978
Stephen Rogers
---
Wave Creations Surfboards
Berry NSW
1972
Paul Robinson.
1972-3
Peter Lawrence - Contributed by Rob Tebble, July 2005.
1989
Werri Beach - Gerringong NSW

Click Wave creations decal for Catalogue entry #192.

---
Wave Crest Hawaii Surfboards
Manly Vale NSW
1979
Doug Bell and Darrell Holmes
Noted: Pencil markings WCH 761B 6'2" with HandShaped by Doug Bell decal on the tail.

Also note Local MotionSurfboards and Buzzy Kerbox Designs on licence from Hawaiian labels.

---
---
Wave Curl Surfboards
1978 - circa 1988
Norah Head

Shaped and glassed by Peter Lawrence.
Decal image by Rob Tebble, December 2008.
"Peter also shaped at Wave Creations at Gerringong in 1972-3 and at Mc Coy's in the early 70's.
(Had a square tail model called the Frozen D).
Peter also regularly worked with Bill Cillia at Nirvana.
Being a Norah Head Manufacture Peter used to sponsor Glen Winton in his early days."
Contributed by Rob Tebble, July 2005.

---
Waverly Surfboards
circa 1958
49 Varna Street Waverly Sydney
Phone FW 3690
Circle decal in black and white by Bill Wallace
---
---
Waxworks Surfboards
circa 1971
Torquay, Victoria.

Decal image contributed by Snazzy, October 2010, who noted:

"Waxworks was apparently a surf shop opened by Fred Pyke and another (name unknown) in Torquay in the early 70s, this logo is from a first generation twinnie.
They lasted about a year, then closed!" pix enclosed!
---
Wayne Dale Surfboards


1974


Victor Harbour, SA
Wayne and Barry Dale
1977
Main Port, SA

Wayne Dale graphic decals, circa 1986, contributed by Snazzy, April 2015.







---
Wayne Dean Surf Designs and Shapes (Surfboards)
Kirra Point, Queensland
1977
Wayne Dean
---
Wayne Lynch Evolution Model (Surfboards)
Victoria ?
1976?
Wayne Lynch
---
Wayne Lynch Surfboards
Victoria
2006
Wayne Lynch


---
Weaver Surfboards
1976
---
Webber and Jardine Surfboards
1975
Noosa Heads.
---
Weber Surfboards (USA) :
Dewey Weber - flambouyant hot-dog surfer of the early 1960's
Early 1960's manufacturer, label still operating.
1965
The Weber Performer with Hatchet fin.
March 1967
Nat Young Ski
1974
Weber Bonzer #198
---
Weiss Surfboards
1963 - 1966
Retail: 8-12 Broadway Sydney, Phone : 211 - 2837
Factory: 110 Renwick Street, Marrickville.
Several shapers, including Bob (Hansen?) from Cronulla, glassing by George Leslie.

Left: Weiss Surfboards Custom Decal.
7 ft 7'', markings : Johnson 399
Decal and board details contributed by Donna Gardner, with thanks.
This board's length is unusual for the period, and is probably a juvenile model.

Weiss (Pty. Ltd?) was a large sporting goods retailer in central Sydney, in competition with the nearby Mick Simmons outlet.
As well as the sporting goods stores, large numbers of boards were also produced for other major retailers, such as Nock and Kirby's Surfboards Bombora model
(a hardware chain store and manufactured by Scott Dillon Surfboards), and department stores Walton's, the Maru model, and Farmer's.
For shop display, the boards invariably featured colour decor.
This was a boom period for Sydney manufacturers, these orders ran a as big as 300 units, and ding repairers became shapers over night.
See Contact Production Boards, 1960s.

Bob Niblock noted:


Weiss as you may know was a friggin Fishing shop in Broadway and I always had to do a lot of explaining to the guys when I carried it onto the beach!!!!!.

Right:

Surfabout,

Volume 2 Number 10, c1965, page 28.

In January 2014, George Leslie of Lennox Head wrote (edited):

I was with Weiss Surfboards from mid 1963 to late 1966.

Around 1963, he started work for Ray Goodwin Surfboards, a Maroubra surfer who sent up manufacturing in an old Quonset hut at Mascot, probably on Botany Road.

---
After about 6 months, during which George learnt sanding and polishing and was beginning to glass, Ray Goodwin was approached by the Weiss Sporting Supermarket in Broadway to make 'shop' boards.
At this time, they continued to make custom boards for Maroubra locals, with the shaping by Ray and Peter Walsh, one of George's mates from Toukley on the Cental Coast.

Circa 1964, to increase production, Weiss bought Ray out, and relocated the factory to Renwick St, Marrickville, the boards shaped by a "very solid surfer from Maroubra who's name I can't remember" and Bob (Hansen?) from Cronulla.

George worked there until 1966 and did 90% of the blank glue ups, glassing, sanding, pin lines/colour panels and finish coats.
He also made fin panels and foiled the cut out fins.
Regular visitors to the factory included Colin Gow and photographer Frank Pithers.

Boards were produced for the Weiss Super Market, Mick Simmons, and Farmers (a major department store of the period), when they opened an in-house surf shop.
There were also a lot of custom orders, and every board was fully hand shaped and crafted and no one that worked there considered them pop-outs, and "I had a great time there."

George also noted that Weiss were a Hungarian family, whose visions for the sports retail market that would be progressive even today.
- many thanks to George.

---
West Coast Surfboards
West Perth WA
1977
Bob Gardner


---
White Lightning Surfboards
?
1977
Decal contributed by Bern Leslie, with thanks, January 2013.
---
White Shadow Surfboards
Rye, Victoria ?
1975
Colin Bell

Decal contributed by Snazzy, April 2015.


---
Wilderness Surfboards
Originally the company name was used in Santa Barbara, California, USA (image right)
and subsequently imported via George Greenough to northern NSW.
Stanley's Surf Logos blog notes the decal design by Maureen Casey, who was married to Mikie Cundith at the time.
Byron Bay NSW
Chis Brock, Garry Keyes, George Greenough, Bob McTavish.

---
Chris Brock, George Greenough, Dog, Garry Keyes and
Bob McTavish.
Wilderness factory,
Angourie - Byron Bay ?, 1969.
Surfing World Magazine,
Volume 12, Number 5, 1969.
---
circa 1969
Angourie NSW
Chis Brock, Garry Keyes, George Greenough.

Image left:contributed by
Henry Marfleet,
Ashford, Kent, UK. April 2007

Click Wilderness decal for Catalogue entry #326.

---
Wilderness Surfboards Advertisement
Surfer, January 1970, Volume10 Number 6.
Includes both Yamba (Australia) and
Santa Barbara (US) address.

---
circa 1971
Angourie NSW
David "Baddy" Treloar (Manly)
Brad Mayes
Treloar was a noted hot junior surfer from Manly Beach and in 1970 he was one of a large stable of shapers at Shane Surfboards.
He is feaured building a board at the "farmhouse factory" and surfing at Angourie in Falzon's MOTE (1972).
Brad Mayes was the son of Bondi legend, Jack "Bluey" Mayes.

Brad Mayes decal circa 1971 contributed by Archie, with thahks, October 2010.
1973
Wayne Williams .(owner/shaper - see image below)
Wayne won the National Surfing titles in the mid 60's.
He also learnt to shape by Bob McTavish from when he was 16 in Byron Bay.
He shaped for Bob McTavish for over a year before going back to Sydney and working for Gordon and Smith.
Wayne shaped for Gordon and Smith in 1970 – 1972.
Wayne was also a very well known member and champion of WindanSea Club, Bondi.
- Buffy Williams-Robinson (Wayne's eldest daughter), with thanks, 12 January 2005
1998
Angourie, Yamba. Phone 02 66462720
Jesse Williams (Wayne's son)
Wayne and Jesse Williams entries contributed, with thanks, by Angie Williams, circa 2003.
Wayne and Jesse Williams entries updated, with thanks, by Buffy Williams-Robinson,12 January 2005.
---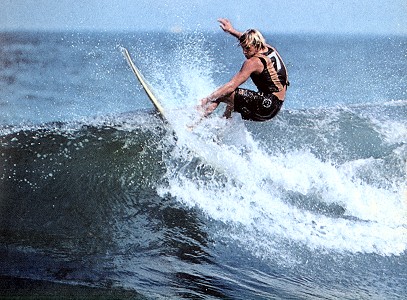 "Wayne Williams, Newcastle Beach, New South Wales.
Superb control by an aggressive surfer."
Image and caption : Margan and Finney (1970), page 257.
Probably Newcastle Contest circa 1968 - 1969, Photograph: possibly Jack Eden.

---
Willow Surf'n'Sun (Coolite)
1974

Image contributed by Fred, December 2013.
---
Windensea (Cronulla)
Cronulla
1978
Not a surfboard manufacturer, but a surf-shop and accessories company.

Decal image courtesy of TomTom2, April 2014.


---
Wintersun Surfboards
Pambula NSW
c. 1976
Tommy Peterson
Michael Peterson
1982-84 Spiral Ride Model Thruster by Michael Peterson
| | |
| --- | --- |
| | Decal and template images contributed, with thanks, by Tom Kearney, Newcastle, January 2007. |
---
WM Surfboards
58A Cumberland Road Auburn Lakemba NSW
1966 to 1969
William Morton glasser and shaper.
Previously employed at Ron Surfboards with Geoff McCoy.
Together they formed M and M Surfboards, Auburn NSW.
Thanks to Geoff McCoy

Click WM decal for Catalogue entry #3.

Bottom: W.M. Surfboards by William Morton, circa 1968.

---
Wondrous Effect Surfboards
1976
Frank Latta

Decal contributed with thanks, by Snazzy, April 2015.


---
Woods Surfboards
Gordon Woods Surfboards

Click Woods decal for extended manufacturer's details.
---
Woody Surfboards
Nowra NSW
1972
Geoff Woodham,
1977
Richard Futcher

Right: Woody Surfboards decals circa 1974 and 1976
Images contributed by Arch Ives, with thanks, January 2008, September 2012.

Geoff Woodham started Woody Surfboards in Nowra about 1970 when the established local surfboard builder, Barry Taylor (Taylor Tubesticks), left for an extended vist to South Africa.
The factory was probably located behind his residence on the highway at South Nowra.
A surfer of considerable ability, he was ambidextrous and rode with either foot forward.
It was rumoured that Woody's eyesight was less than perfect and suggested that other riders should make sure they paddled well out of his way.
In the early 1970s his most noted and popular design was a wide swallow tail twin fin and a soft rounded rail with a distinct breakaway edge onto a flat bottom.The most common decal was usually a large and orange and black design, attached, although other colours were used.
Some models featured an additional colourful butterfly decal, possibly derived from a Californian manufacturer.
It is reported (Tony Matthews, March 2008) that Woodham generally shaped, decorated and glassed the complete board himself, although one board was recorded as being shaped by Richard Futcher, circa 1977.
By the mid-1970s Tayor had returned to Nowra and was now manufacturing on the highway at South Nowra and Alan Wilson was beginning to establish a clientel for his Christie Surfboards, later manufactured at Bomaderry.
In Berry, Paul "Eggy" Robinson was building Wave Creations Surfboards.
Small backyard builders in the area include Bruce Hennessy's Crooked River Surfboards at Gerroa and Natural Flow Surfboards by Peter Hitchen at Shoalhaven Heads.
With increasing commercial competition and a growing personal interest in competitive motor cross racing, Geoff Woodham probably produced his last boards around 1978.





Woody Custom Surfboards

and

Woody Butterfly

,

1974

, decals

forwarded by Nambi8, April 2014.




---


Woody Surfboards

Nowra,

1971,
-twin fin decal forwarded by Mal-Kom, April 2014

---

---



Decal contributed by Snazzy, April 2015.



---
Woody Surfboards
?
1980?

Decal forwarded by Senior Service, April 2014.

---
Woosleys Surfboards
Kelvingrove Brisbane
1965
Ray Woosley
Fin with "W" decor, concave tunnel tail.
1966
Rod Teys
399 Competitor model
1968
Les Purcell - contributed, with thanks, by Les Purcell.
Decal image contributed by Jim Swinton, February 2006.

---
Step One
Sanding the Edges.

Ray Woosley's factory
in Brisbane, circa 1963.

Johnson, Barry: Surf Fever
The Jacaranda Press,
Brisbane, 1963, page 15.



---


Woosley (Cloud), Shaped by Teys, circa 1969.
Image contributed by Sasha, 2014.



Woosley Surfboards, Old English script, 1969.
Decal image contributed by Steve, May 2011.


Woosley (Fleur), Shaped by Teys, circa 1968.
Image contributed by Sean C Nolan
Gulf Breeze, Florida, 2008

---


Ray Woosley 399 Competitor, circa 1966.

---



---

surfresearch.com.au
---
---
---
Geoff Cater (1999-2015) : Catalogue : Manufacturer Index - W.
http://www.surfresearch.com.au/mw.html