Valentine Surfboards (Qld)
410 Logan Road, Stones Corner, Brisbane, Qld.
Brisbane: 49 3425
The Promontory Road, via Fish Creek, Victoria.
Melbourne: 93 5295
1973
Alan Valentine

Butterfly decal image contributed by Tony, Hawkesnest,
NSW, December 2008.

Fish Creek decal image contributed by Ignatz, South West Rocks, NSW, August 2011.

Valentine (1975) decal forwarded by Lex, March 2014.

For other butterfly decals see Fred Pyke Surfboards and Monarch Surfboards.


Breakway July 1974:
Fire at the Valentine Surfboards Factory-Fish Creek.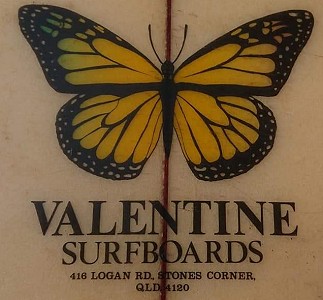 ---

---