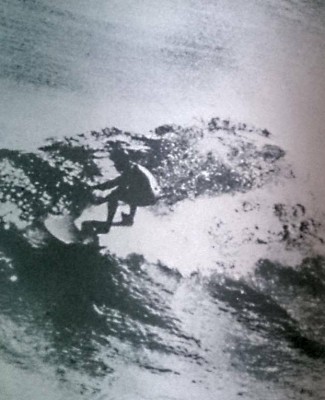 The Flypaper ...
hanging under the curl banked over so your body weight
is almost horizontal, pinned to your board by centrifugal force.
George Greenough developed it.
Page 9
Bob McTavish

LADIES AND GENTLEMEN AND CHILDREN-OF-THE-SUN.
Today, surfing's main school is the turn the board, walk to move out, get forward for trim,
adjust a little across the board, backpedal like a log-roller to haul the board into a cut-back type.

Noseride, slide white water, stick your body into any nearby mass of fluff.

CALL IT INVOLVED, "in", New Era, high performance, aggressive.
Call it anything.
Plenty of thrills in it, deep moving out, but, oh! in a straight line.

On the tip, hanging well over, feeling good, but that crazy straight line again.

Nice wall.

Walk up some, hold back on the inside rail, let it go!

Walk up for full trim.

Moving like crazy!

But. ..in a straight line.

BREAK OUT FROM THE STRAIGHT LINE.

Go fly ...go free. ..up up and away down the barrel. ..down down and yup!
Drop, bounce, thrust. ..up, down thrust. ..cut!
SOUNDS BONZER.
HOW PLEASE?
Get your frame on the all-new