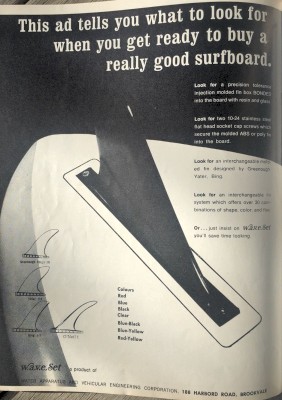 1968
[Bennett Surfboards]: WaveSet Advertisement
Look for a precision tolerance injection molded fin box bonded into the board with resin and glass.
Look for two 10-24 stainless steel flat head socket cap screws which secure the molded ABS or poly fin into the board.
Look for an interchangeable molded fin by Greenough, Yater, Bing.
Look for an interchangeable fin system that offers 30 combinations of shape, color and flex.
Or just insist on W.a.v.e. Set .. and save time looking.

Colors: Red, Blue, Black, Clear, Blue-Black, Blue-Yellow, Red-Yellow.

Designs: Greenough Stage III, Yater #2, Bing #1, O'Neill #1

W.a.v.e. Set
A product of Water Apparatus and Vechicular Engineering Corporation
188 Harbord Road Brookvale

Surfing World September 1968, Volume 11 Number 3 page.