pods for primates: a catalogue of surfboards in australia since 1900
---
---
surfresearch.com.au

surfing images : extra
---
surfing images : Extra.
---
---

Anonymous : Detail fromSurf-diding at Hilo Bay, circa 1850. (Colour in Oils)
Lueras (1984) Page 48.
Mr. and Mrs. Don Severson Collection.
---
1850. Anonymous : Surf-riding at Hilo Bay. (Oil on metal)
First known colour image of surf-riding.
Although the riders positioning is unfortunate, this is typical of many images of this period.
The image records native and European observers and possibly off-shore winds.
The wave is of significant size (relative to the onlookers) and it realistically crests at maximum height before breaking.
Modern surf-riders would characterise the break as a steep and powerful left-hander.

Finney and Houston (1996), pages 28 -29, note seven ancient breaks identified at Hilo Bay, Hawai'i, which possibly rivaled Waikiki for surf-riding resources.
There are two 19th century reports of surf-riding at Hilo Bay.
The first is by John Caton in 1880 and the second in 1880 by Thomas W. Knox.
Unfortunately, the surf-riding at Hilo Bay was terminated with the building of large breakwaters that turned the bay into a large harbour.

"A breakwater across Hilo Bay was begun in the 1900s and completed in 1929."
http://en.wikipedia.org/wiki/Hilo,_Hawaii

"Hilo Bay: Having been devastated by tsunamis (seismic ocean waves) a number of times, the townsfolk of Hilo finally constructed a huge breakwater that shields the bay from not only devastating surf, but any and all surf. The water in Hilo Bay is often murky and best for kayaking or swimming because of extensive runoff from nearby streams and rivers. Directly in the line of equatorial currents, Hilo Bay's highlight is beachcombing, as floatsam from around the Pacific Rim can wash up here."
http://www.pacificislandtravel.com/hawaii/about_destin/big_island.html

First printing and scanned image in
Lueras (1984) Page 48.
Mr. and Mrs. Don Severson Collection.
"The oil painting ... was painted by an unknown artist who visited Hawaii about 1850.
It is painted on a biscuit tin and is titled : 'Hawaiian Surfing, ca. 1850, at Hilo Bay, Hawaii.'
The work was recently discovered in a New York art gallery by a Honolulu antiquarian who has since returned it to Honolulu." Lueras (1984) Page 49.
For full version see below.

Various resized and/or cropped versions are also printed in
Lueras (1984) Pages 2 - 3.
---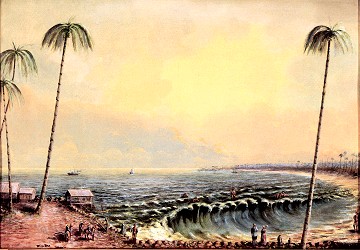 ---
James Gay Sawkins : "Surfboard,
a bathing scene, Lahaina, circa 1855."

Water colour,
National Library of Australia.

Thoms (2000)
Page 5.
---
1855. James Gay Sawkins : Bathing scene, Lahaina, Maui. Water colour.
A very rare image that illustrates both canoe and board surf-riding, with several sailing canoes in the background.
Although the riders positioning is unfortunate, this is typical of many images of this period.
The activity is communal, with small prone boards on a small left-hand break close to shore.
The board-riders appear to be female, note the swimmer in the right foreground who has her breasts covered.
This possibly indicates the image as an authentic report, whereas some images significantly detail this feature.

Finney and Houston (1996) page 30, note four ancient breaks identified at Lahainai, Maui and two others, not located.

"As a working geologist in the service of Her Majesty's government, James Gay Sawkins traveled the world and co-authored several books that consisted of surveys of the geology of various lands.
He was a fellow in the Geological Society (United Kingdom).
He was the Director of the British Guiana and Jamaica Geological surveys.
These surveys may be found in the British Library.
He is known to have traveled to British Guiana, Cuba, Demerara, Hawaii, Jamaica, the West Indies, Trinidad and Australia.

We know from family correspondence that he "went to Italy to improve himself in the art of painting."
James and Mary illustrated some of his geological surveys, and a book of watercolors of his Hawaii excursion has been published. Family members have some of the originals of his work."

- http://freepages.genealogy.rootsweb.com/~dbcompton/sawkins/i0001346.htm#i1346

There is one early report of surf-riding by Charles Stewart at Lahaina, Maui in 1824.

James Gay Sawkins (1806 - 1878) : "Surfboard, a bathing scene, Lahaina, circa 1855."
National Library of Australia.

Possibly first printed in
Sawkins, James Gay. A Pictorial Tour of Hawaii, 1850-1852.
Watercolors, Paintings & Drawings With an account of his life & travels by David W. Forbes.
Foreword by Richard H. Dillon
Book Club of California, San Francisco, 1991.
Forbes's introduction notes ...
Sawkins (1806-1878) was an Anglo-American geologist and amateur explorer who visited Hawaii as a tourist in the early 1850s. His watercolors and pencil sketches form "the most complete and important pictorial record of the 19th century Hawaiian landscape."

Also possibly printed in
Forbes, David Encounters with Paradise Views of Hawaii and Its People 1778-1941
University of Hawaii Printing, Honolulu, Hawaii, U.S.A., 1992
Illustrated with paintings, prints and drawings.

Scanned image from
Thoms (2000) Page 5.
---
Anonymus :
"Sea side Photographer, circa 1900."
Stereoscopic View, Private collection.
Frizot, Michael (ed) : A New History of Photography.
Konemann Verlagsgesellsvhaft mbH. Bonner Str 126, D-50968 Kohn.
English Edition 1998. Page 182.
---
---

surfresearch.com.au
---
---