surfresearch.com.au
---
---
surfresearch.com.au
corky carroll : the curl line, 1967
---
Corky Carroll: The Curl Line, 1967.

---
Corky Carroll: The Curl Line.
Photographs by Ron Stoner.
Surfer
Volume 8 Number 5
November 1967, pages 56-5.

Copy courtesy of Graham Sorensen Collection.

---
Introduction.
This article is probably one of the earliest reappraisals in print of the status of nose-riding by one of its leading exponents.
While there is clearly a condemnation of the views of Nat Young and John Witzig,"we are best; you are kooks" (in bold in the article, underlined in the reproduction below), in fact the article adopts many of their critiques, in particular by relegating noseriding to only one of a palette of potential manoeuvres "to stay as close to the curl as possible."

Importantly Carroll does emphasise the blending of a series of manoeuvres in to a "continuous flow," and as such the article could be viewed as a a mid-point between Bob McTavish's ground breaking articles of January 1967 and 1968.

At the beginning of 1967, McTavish presented a detailed catalogue of manoeuvres "to get involved... in a hairy position, under, in over, around the curl, quite often in contact with it;" hence, later often referred to as the Involvement School.
((In Australia, the term New Era was widely used; which failed to technically specify the "school," but did reflect personal and cultural differences in the Australian surfing community, not the least being the spread of cannabis use.)
The manoeuvres included a selection of turns and a selection of stalls, plus "a few handy acceleration techniques."
Twelve months later, following an intensive winter of design development and testing on Sydney's northern beaches, the stall was to be eliminated from the repertoire, by "break(ing) out of the straight line" the wave was to be ridden at maximum speed in a combination of turns and trim.

Also see:
Bob McTavish : Bob McTavish is in this wave. He probably had a plan to get out of it.
Surfing World Volume 8 Number 4, pages 15-21? January 1967
1968 Bob McTavish :"Ladies and gentlemen and children of the sun ..."
Surf International Volume1 Number 2 January 1968 page 9.

Other articles in this edition include:
Ron Perrott: Surfing the Seychelles.
Larry Corby: Surf Buggy
Ron Stoner, Russ Pound: Blacks (cover shot)
Patrick McNulty: Editorial- Going to Pot.
Mike Purpus: Winning Contests (Surfer Tips)

Advertising.
Hobie Surfboards: Corky Carroll Flexible, Corky Carroll Mini-Model, Corky Carroll model, Corky Carroll Hawaii model: inside front cover.
G&S Surfboards: Skip Frye's High Performance Fin, page 4.
Weber Surfboards, fabric deck patches, pages 6 and 7.
Jacobs Surfboards: Mike Purpus "3rd Makaha ABC Invitational," page 8.
Hansen Surfboards: Doyle model, Hustler and Master models with optional Powerflex in the nose, page 10.
Rick Surfboards: UFO model, with chamfered pod, page 14.
The Nose Bumper, page 17, see below.
AQUA JET Surfboards, page 18, see below.
Morey-Pope Surfboards:Bob Cooper's Blue Machine, page 21
Greek Surfboards: Maui model, by Tom Lonardo, page 23.
Windansea Surfboards: 9'6'' Cheroot model, page 25.
Bing Surfboards:Nuuhiwa Lightweight, page 86.
---
Page 56 (and 57)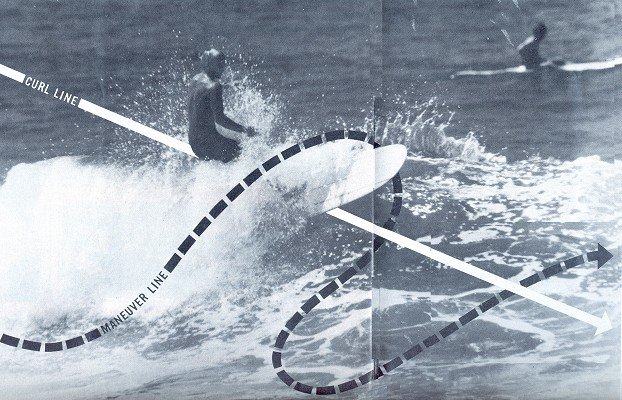 The curl line and how the high performer relates his surfing to it, is illustrated here in a ride by Jock Sutherland.
Sutherland moves up and down and surfs both sides of the curl line, in contrast to the "old timers" who
positioned themselves in the curl (on the curl line) and rode away from the break.
Page 57
Corky Carroll, 1966 USSA and U.S. National Champion, analyzes a new trend in surfing and compares it with the old style.
He talks about a line of riding reference and how it relates to progressive styles.
"the curl line"
by Corky Carroll
photos/Ron Stoner
The top performers of surfing these days are developing a stylish technique that uses the curl every second they are with the wave.
I call this technique "riding the curl line" because the surfer bases every move on the speed and direction of the curl as it moves toward the beach.
Of course, surfers always have used the breaking portion of the wave as a reference point for maneuvers.
However, in the traditional style of yesterday, the surfer criss-crossed back and forth across the wave's face moving away from the curl and occasionally cutting back toward it.
Usually, the surfer's direction was parallel to the beach while the wave was breaking at a diagonal angle toward the shore.
Today's surfer has evolved a technique so he moves in the direction of the curl- on both sides of it- and becomes part of the wave itself.
This technique has a great deal in common with skiing.
The "fall line" is a skiing term meaning the steepest, most direct route down the mountain.
A skier bases his moves around the fall line by maneuvering around it according to the speed at which he wishes to travel.
Surfing has a fall line, too- straight down the
Page 58
Two photographs: Billy Hamilton displays the fading take-off at Encinitas (above) and Cotton's Point (below).
The ride is started by surfing into the curl.
wave.
But because in surfing the "mountain" is moving, surfing has a different line of riding reference- the curl line.
Surfers have adapted a technique of surfing around the curl line in order to control the tempo of their riding.
Much as a skier uses a series of short turns to slow himself down, a surfer adjusts and readjusts his trim so as to stay as close to the curl as possible.
In surfing the curl line is based on the speed of the breaking curl and the direction which the wave is moving toward the beach.
By determining the point at which the curl will last break on the beach and the best possible take-off spot (where the curl will first break), a surfer can determine direction of the curl and its speed.
Using this as a guideline, he is able to base his maneuvers on this direction, work-
Page 59
Three photographs: Barry Kanaiaupuni follows the basic curl line in these Trestle shots,
but works mostly above and below it in much more critical positioning.
ing on both sides of the curl line and getting much more out of the wave.
This differs from the "old" style of riding where the surfer constantly tried to position himself on the curl line and ride away from it. This technique allows a surfer to use all of the power the wave has to offer.
There is much more to it than just getting on a slight angle and turning back and forth around the curl.
First of all, there is the wave constantly moving and changing, speeding up its curl or slowing it down, getting steeper or flatter. This is where continuous flow becomes a necessity, and only through being able to react to the wave, with the wave, can a surfer really use this technique fully.
By putting combinations of maneuvers together with the movement of the wave, the surfer, his board

Page 60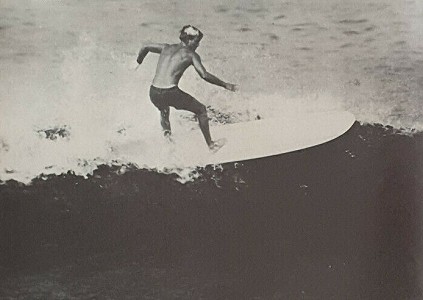 Jock Sutherland hangs high ready to "roller coaster" with the breaking wave.
[Similar to page 56.]
and the wave become one motion.
It is stylish and beautiful, and the rider never insults the wave; he brings out the symmetric beauty of it and makes himself part of it.
Once a rider adjusts his riding to the wave, he becomes rhythmical and combines his moves instead of making them separately. By using the curl line, he can maneuver into it and then follow through, setting himself right into the motion of flowing back into it.
There are many different maneuvers and combinations.
The turn, the side-slip, the nose ride, the stall, the climb, the drop, the ins, the outs, the ups, the downs are all maneuvers to control tempo.
But the one most important factor is trim, setting trim, breaking trim, adjusting, read-
Page 61
| | |
| --- | --- |
| David Nuuhiwa assaults the curl line with a whip cut-back at Oceanside. | Bob Lonardo drives into a section at Virginia Beach, but will reverse his direction as he takes the drop. |
(re-ad) justing, stopping, going.
Creating speed, creating a suspended animation, driving, arching, relaxing, moving and flowing every foot exactly with the ocean.
If you go against it, if you force it, you have insulted it and taken away its beauty.
If you flow with it, you become part of it and its beauty and it becomes part of you, and you work together.

Surfing is so individualistic that every rider, every personality and every mood will create a new flow, a new ride- individual and different from everything before or after.
Let's remember in these days of "who's who" and "we are best; you are kooks" that the ocean is more powerful, more beautiful, more stylish than all of us, and that's what it's all about! .

---
Page 4











We were No- 1 with the High Performance fin !



It all happened last year when Skip Frye designed his model.
With much experimenting and testing with the fin, the High Performance low area fin evolved.
In March, it made it's debut on the Skip Frye Model and was available at no extra cost on most of our other boards.

The response was unbelievable!
The High Performance fin has been requested on 95% of our boards.

Many individuals have cut their fins down.
We have observed other manufactures using a varied form of our low area fin design.
Many of the competitors in the semi-finals and finals of AAA competition have had high performance shape fins.
It is superb in all areas of high performance or progressive surfing and still beneficial in learning the fundamentals.

We were first to cut it down.
Always look to Gordon and Smith as a leader in design.

Skip Frye, consistent high ranking USSA competitor, noted stylist and high performer, has been surfing and shaping for Gordon and Smith over the past 5 years.
Skip's model is highly suited for the in and out, up and down tempo of modern surfing.
This board it excellent for the competitor or the aggressive surfer, yet easy for the average surfer to ride in ever day conditions.
Skip uses his model in any surf and for all regular competition.

The outside shape has slight hips for turning, the nose is semi-blunt and has a slight kick.
The control ... excellent from the forward third of the board when trimming and nose riding either in the curl or across the soup line.
It is a lightweight performer with a clear finish.
A black High Performance fin is used.

More information? Write us for our Brochure, Price List and Dealers' List.
Clark Foam Exclusively
5002 Santa Fe Street, San Diego, California, 92109.


---
Pages 6-7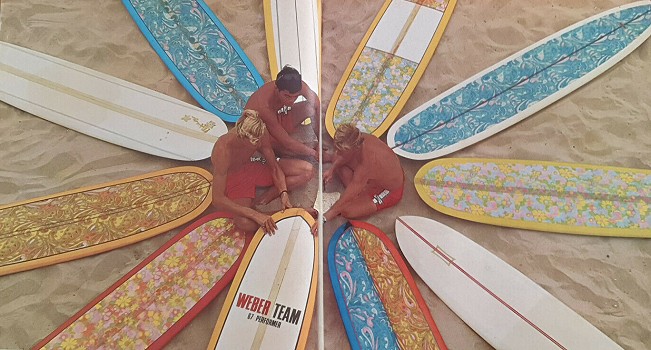 ---
Page 17
REVOLUTIONARY BREAKTHROUGH...
"the nose bumper"


This tested and proven bumper eliminates nose damage and costly repairs.
Specifications:
(1) Expertly designed and machined with performance of board.
(2) Weighs approx. 2 ounces.
(3) Positively will not interfere finish on board.
(4) Special adherent holds bumper on another board.
(5) Bumper can be removed and put to contour-fit all boards. (adjustable)
in place while not damaging Solvent: Acetone.
Colors: Red, blue, white, black, yellow, etc.
Only $3.95 (add 25c for mail order to handle packaging and shipping) Dealer inquiries invited.
JOYCE RESEARCH INC./ 1402-08 Olympic Blvd., Santa Monica, Calif/EX 5-7771
---
Page 18
AQUA JET-
the powered surfboard
AQUA JET now offers maximum surfing pleasure.
Six years of time and over $100,000 have been spent in achieving this superbly engineered surfboard for you.
Low voltage electrical power makes Aqua Jet practically silent and as safe as can be.
And while riding a wave, it performs in every respect like the finest surfboards.
But getting to and from the lineup spot is where Aqua Jet really performs.
High acceleration assures that you catch every wave you try for, and the same acceleration puts you in perfect trim position immediately.
You glide back outside at a nice quiet, steady speed that's a little faster than you normally paddle.
If necessary, you can accelerate instantly to escape a clean-up set!


STANDARD CONFIGURATION Length 10' 5" Weight 39 1/2 Ibs. Thickness 3 15/16'' Width 22''

Forward thrust is achieved by our "Power Skeg" C (fully covered by domestic and foreign patents pending), that moves rapidly forward and backward.

As it moves back, wings open on both sides of the "Power Skeg"C causing the board to be pushed smoothly and rapidly forward.
As the skeg moves forward for the next stroke, the wings fold in and cause no drag.
When you stand up to surf, the motor turns off, the skeg returns and locks into a normal surfing position.
The specially designed, quiet running, dependable electric motor is powered by lightweight batteries.
You can surf all day.
At night, just "plug in your board" and the batteries art recharged for the next day's surfing.

Rentals-Rental revenues are excellent.
At $5 per hour rental fee, the board will pay for itself in a very short time.
The powered board is the first out and the last in.
Clubs -One or more boards per club will supply funds for your treasury.

Aqua Jet is sold only through surf shops - see your local surlboard dealer.
price--$500 F.O.B. San Francisco
Neal Townsend, AQUA JET Co./ 120 Powell Street, San Francisco, Calif. 94102
---
Surfer
Volume 8 Number 5
November 1967.

Cover:

Copy courtesy of Graham Sorensen Collection.
---

surfresearch.com.au
---
---
Geoff Cater (2013-2019) : Corky Carroll : The Curl Line, 1967.
http://www.surfresearch.com.au/1967_Carroll_Curl_Line_Surfer_v8n5p56_Nov.html
---