surfresearch.com.au
---
---
surfresearch.com.au

plans and specifications : hobie noserider

---
1965 Hobie Noserider
Phil Edwards
---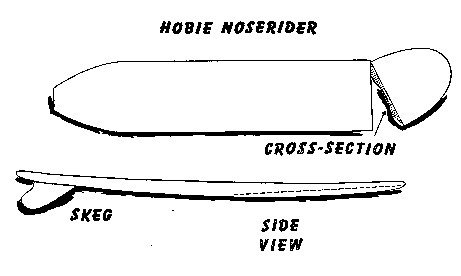 ---
From :Edwards, Phil with Ottum, Bob :


You Should Have Been Here An Hour Ago -




The Stoked Side of Surfing or How To Hang Ten Through Life and Stay Happy


Harper and Rowe 49 East 33rd Street New York, NY 10016. 1967.
Chapter 11 : The Great Nose-Rider Caper
Plans :page 169
Mickey Munoz photograph by Bruce Brown : page 122
---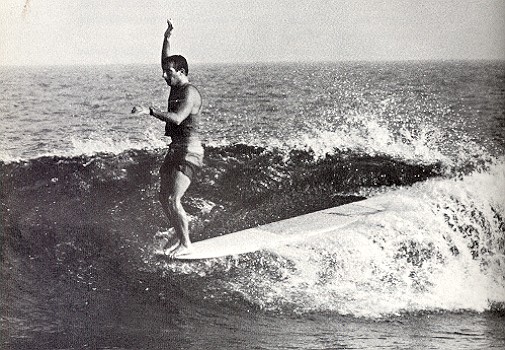 ---
Original design by Phil Edwards and Hobie Alter at Hobie Surfboards June 1965.
A fleet of boards were prepared for Hobie Team members as entries for Tom Morey's Nose Riding Contest at Ventura, California.
Performance was judged with a watch - timing the rider on the front 25% of the board" (designated by a coloured deck patch or band), accumulated on a maximum 14 waves. Tom Morey designed the contest to apply objective judging criteria to surfing and encourage board designers to concentrate on one specific design feature. Some shapers attempted to maximise the 25% nose area by non-functional tail extensions, others merely added ballast to the tail of a standard board.
Image Right : Kampion, page 103.
The Hobie Surfboards team won first places...
---
Natural foot : Mickey Munoz - see photograph above.
(although "by a judging error ; Mike Hynson of San Deigo actually won." - Kampion, page 103.)
Goofy foot : Corky Carroll - see photograph below.
- see Corky Carroll's comments in Surf-Dog Days and Bitchn' Nights, page 48
The event was a spectactular success, establishing noseriding as the epitome of small wave surfing skill (in California)...
Noseriding models (most variations of the Hobie design) proliferated by all mainland manufacturers.
Tom Morey's Morey-Pope Co. marketed Slip Check, an aerosol spray wax alternative, available in a range of colours, the most popular use was the competition-based white nose patch (tip to sweet spot).
---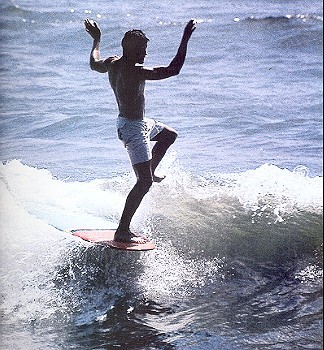 Corky Carroll and Hobie Nose-Rider, Poche, July 1965.
Photograph Ron Stoner, Kampion page 105.
---

The extraordinary talent of David Nuuihwa (Bing Surfboards) elevated him to God-like status in the Californian surf media, see McGillvay.- Freeman : Free and Easy, 1966.

---
David Nuuihwa, 1966.
Photograph : Leroy Grannis
Surfing Magazine March 1984
Volume 20 Number 3 page 82
---
This enthusiasm was tempered severely with Nat Young's victory at the1966 World Championships
(San Deigo California) - a emphatic practical demonstration of Bob McTavish's Involvement Theory ...

The direction is involvement.
Getting into tight spots - under, in, over, around the curl, quite often in contact with it
And getting back out of them.
The more involved you are...the hotter you are.
Edited from.. bob mctavish is in this wave. he probably had a plan to get out of it
Surfing World magazine January 1967 pages ?
---
Nose riding models were reproduced in the 1990's with the popularity of the modern Malibu
---
1965




Gordon and Smith, Noserider




9ft 7" #109
---

surfresearch.com.au
---
---
Geoff Cater (2003-2015) : Phil Edwards Noserider, 1965.
http://www.surfresearch.com.au/1965_Noserider_Plans_Edwards_p145.html