NOTES
BOARD HISTORY
Added to surfresearch collection 11 August 2008.
DESIGN HISTORY
Not a wave riding board, these craft were used as a seaside dirversion in the mid-sixties.
The rider would carry the board and run at full speed before lauching the it in the shallows and jumping onboard for a fast but brief ride.
See image right.
Note this skimboard is decorated with a draughtboard graphic, similar to example #37 on page 224 of Walding: Surforama (2008).

In 1964, Petersen's Surfing magazine (US) published instructions for "How to Build a Skimboard". (1964 September, Volume 1, Number 7, page 16).
The design was reactivated in the late 1980s with a streamlined template which was intended, only when conditions were suitable, to be launched seaward and then turned hard off the incoming wave face.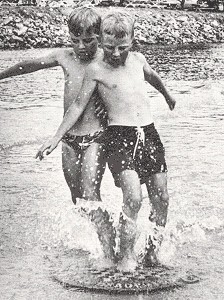 Margan and Finney:
Illustrated History
(1970), page 141.