surfbresraech.com.au
---
---
surfresearch.com.au

film : follow the surf
---
follow the surf !
---
First release.1963
Directed/Camera/Script by Denis Elton
Surfers : Midget Farrelly , Rodney Stumper, Nat Young, ,.Scott Dillon, Mick Dooley,
Locations :Narrabeen, Fairy Bower, Bare Island in Botany Bay, Currumbin, Caterine Hill Bay, Werri Beach, Makaha, Malibu, Rincon, Waimea Bay,
Surfboards:
---
Stimulated by the surfing boom, Sydney surfer Dennis Elton now edited his 8mm surfing footage into a 45 minute featurette,
Follow the Surf
(1963), with narration and music on reel-to-reel tape.
It was paired with and Surf Stomp (1963), another featurette shot by his Bronte mate, Dennis Milne, and they began screening the double-bill in surf clubs and halls around Sydney, before hitting the road and screening it along the coast from Bells to Noosa.
With early footage of Farrelly at North Narrabeen, Scott Dillon in a three-metre surf at Bare Island in Botany Bay, Mick Dooley at Currumbin, Young and Sumpter when barely teenagers, and a host of suburban surfers, the films recorded the pioneering surfaris organized by the first wave of malibu boardriders, and proved a hit with audiences keen to see Australian surfing.
But it was not always plain sailing, with 300 teenagers turned away from Hurstville Town Hall when a screening was cancelled because the venue wasn't licensed to show movies, and screenings in Bronte and Cronulla threatened by rockers who wanted to 'put on a blue' with the local surfies.
The main problems, however, were keeping the soundtrack in synchronization with the film, and projecting a picture big enough for everyone to see, which discouraged others from making 8rnm surfmovies.
---
Above text and Image right
Dennis Elton and Bolex camera, circa 1963.
, from..
Albie Thoms: Surfmovies
The Blue Group, PO Box 321,
Noosa Heads Queensland 4567
Published 2000.
Page 86
---
---
Surfers, Locations and Surfboards
Part 1.
Part 2:
Part 3:
---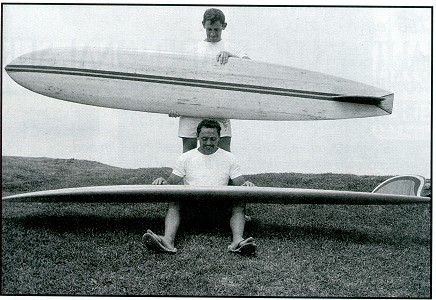 Scott Dillon, "Babba" and balsa wood Elephant Guns, Long Reef.
circa 1963
Photograph : (Jack Eden?): Scott Dillon Collection
---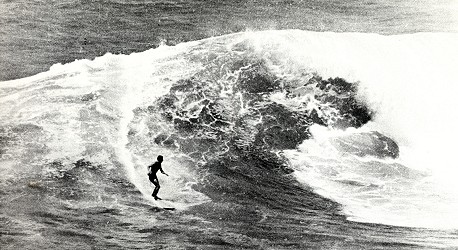 Scott Dillon, First Wave, Bare Island Bombora, circa 1962.
Photograph : Jack Eden
Margan and Finney: Pictorial History, page 269
---

Part 4:
Nat Young,
Midget Farrelly :
---
In 1962 Foley boards had a bit of interest. A 6 ' 6" wide tail board, another foreshadow.
....
Dave Chidgey, who had been a Foley board fanatic, got Midget and McTavish to shape him an 8 foot
gun, of balsa. This little zipper did it, Dee Why point got done over, if only he'd stuck it out and
they'd taken on then, we could have had hot sticks in the uncrowded days.
Bob McTavish :
Pods for Primates Part 1
---
Part 6:
---

COMMENTS
1.

---
SOURCE : Video (with hand coloured cover) from ...

THE LOG SHACK
392 Harbour Drive , The Jetty Strip, Coffs Harbour, NSW. 2450
Phone / Fax : 02 6658 0223.
COASTLINE VIDEOS
Dennis Elton
Banora Point NSW
07 5523 2807
---
Film Details
---
---
---