pods for primates : a catalogue of surfboards in australia since 1900
---
---
surfresearch.com.au

snow mcalister : sprint walker & solid wood
---
Sprint Walker
SOLID WOOD BOARDS IN VICTORIA, 1920'S
& A 1972 REPRODUCTION BY BILL CLYMER
By Snow McAlister
Tracks magazine 1973
Reprinted in The Best of Tracks 1973 page 119
Copyright Snow McAlister 1973.
Photographs by Frank Pithers
---
*Annotated and links to references in this page.
---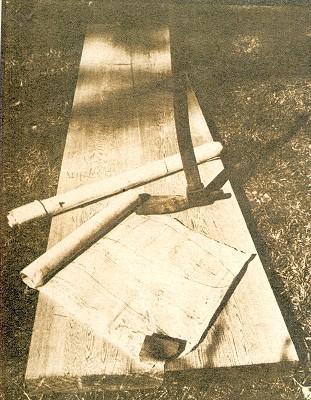 ---
SPRINT WALKER
Ever since the dawn of creation man has floated around on some kind of gear - logs, dugouts, canoes, kayaks, rafts, boats and ships. Probably the latest introduction to the floating fleet was the surfboard originated in Hawaii by the early Polynesians. Each piece of equipment played its part in man's endeavour to use the oceans to best advantage.
Lets hark back a few years to 1920 when the solid wood surfboard was gaining favor after the introduction of surfboard riding by Duke Kahanamoku at Freshwater beach, Sydney, in 1915. Duke came here to compete in swimming contests, he being world champion swimmer, a title incidentally he held until 1920 when he was defeated by Johnny Weismuller. While on holiday at Freshwater, Duke saw such good surf rolling in that he decided to make a surfboard which he carved out of sugar pine timber. The locals had no idea what he was going to do with the board and offered to take him out through the break in their fishing boat. He refused and amazed the spectators by paddling this 70 lb board out to sea. He made for the southern end of the point at Freshwater and startled the locals by riding several waves standing up across the bay reaching the shore on the northern side of the beach.
This display by Duke set the young surfers keen to design and make surfboards. Mostly they copied the Dukes original board. (Incidentally the Dukes original surfboard is mounted and on display at Freshwater SLS Club.)
Sprint Walker, a member of Manly swimming club and Manly life saving, gained honours in both clubs in the competitive field. He made a board like Duke's after witnessing his Freshwater display, using one made of solid redwood, 9 feet long, 24 inches wide and 3 inches deep. In the early 20's, when his Sydney firm appointed him to their! Melbourne office, he packed his ports including his surfboard. He was unaware at that time but he was introducing the sport of surfboard riding to Victoria. It was a disappointment to Walker to find all the life saving and swimming acticities were centered around the city baths and the life saving clubs only on Port Phillip Bay, St Kilda and Elwood, etc. This didn't satisfy Sprint who loved the broken water. He managed to get transport to the coast at Portsea and Sorrento beaches and be was delighted to find such good surf going to waste on these beaches. Rather than commute each weekend with the heafY board, he would bury it in the sand.
It was lonely for Walker on these week-ends so he decided to entice some of the best bay swimmers to visit the coast and see what surfing and board riding were all about. Many prominent swimmers learned the art of body and board surfing through Sprints endeafours. As he gained the confidence of the local sportsmen, keen groups would visit and surf on the virgin beaches of the Victorian coast. Out of these trial and error journeys to famous beaches one beach stood out in Walkers opinion as the best and most consistent surf spot on the coast.
That was Torquay beach some 14 miles from Geelong. It had the greatest possibilities with its long rolling breakers, consistent surf, a good beach and a fair 45 mile road from Melbourne. He didn't know it then, but the area was to become the Mecca of the surfboard rider and body surfer, Walker's father was secretary of the then Royal Life Saving Society while Sprint was a member of the Surf Life Saving Association of Australia. He and the Victorian stalwarts had gathered around him decided to form a Surf Life Saving Club at Torquay, the club had direct membership and affiliation with the NSW clubs since Victoria did not have its own Association. From this start the Surf Life Saving movement spread along the Victorian coastline. It now numbers 30 clubs.
Unfortunately some years back the Torquay club house burned down, destroying all records including Sprint Walker's original surfboard which the club had preserved and mounted in the clubhouse. A new clubhouse is now built and opened recently at Torquay beach. Well known Sydney surf boat builder Bill Clymer an ex-member of Torquay Life Saving Club, was commissioned to build a replica of Sprint Walker's original surfboard.
"SNOW" McALISTER
---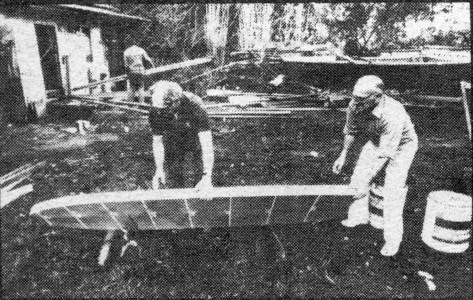 ---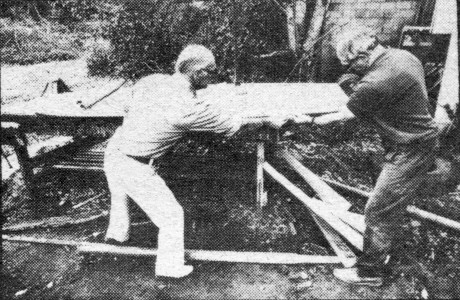 ---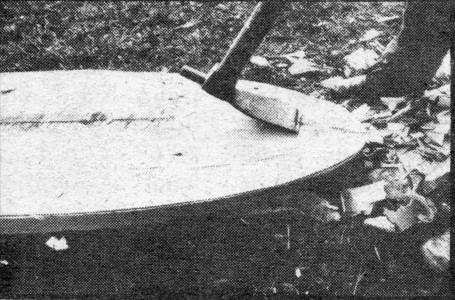 ---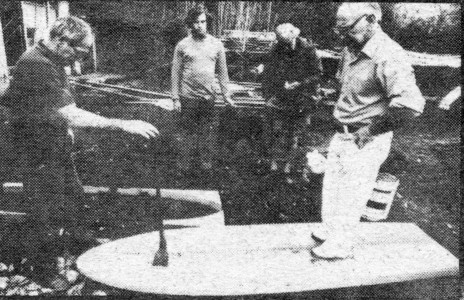 ---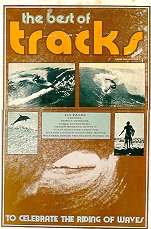 ---
CATALOGUE ENTRIES
---
1914
Duke Kahanamoku's
Alaia
8 ft 8" #100
---
1917 #175
O. E. Downing
Surf Shooting Board,
Solid Wood, 8ft 5 1/2''
---

surfresearch.com.au
---
---