pods for primates : a catatogue of surfboards in australia since 1900
---
---
surfresearch.com.au
marshall : cronulla slsc pt2, 1968
W. G. Marshall : The Cronulla SLSC Story, Part 2, 1968.

---
Extract
Marshall, W.G. : The Cronulla Story, Part 2.
Cronulla Surf Life Saving Club: Cronulla Surf Scene
Volume 1 Number 2 January, 1968, pages 6 and 7.

---
Introduction.
Marshall's The Cronulla Story, Part 1 appeared in Cronulla Surf Scene Volume 1 Number 1 October, 1967.

Given this article was prepared within 50 years of the events, the author was possibly personally familiar with some of the Cronulla participants as well as available club records and newspaper reports.
See:
1915 Duke Kahanamoku :Cronulla 7th February 1915.
Newspaper and book extracts from 1915 to circa 1960.

The article confirms:
1. the existence of more than one Duke Kahanamoku board in 1915
2. Sydney "surfboard exponents" existed before 1915.
3. Duke Kahanamoku's Cronulla board was subsequently ridden by at least three other riders.

---
Page 6
Although there were few residents of Cronulla fundamentally interested in surfing and surf clubs in the early days, quite a large number of visiting youths frequented the town at weekends stopping over in the camps that they set up.
Among these youths were a group of Waverley lads who, anxious to escape the irksome municipal regulations of their local area, journeyed to the southernmost metropolitan district.
Four such weekend camps were situated on Mr. J. H. Whipp's property and the occupancy of the camps was practically permanent throughout the year.
It was not long before these young fellows and the now interested locals began to form the nucleus of a club, and in due time, their ambitions were realised.
Beginnings of Surf Boats
The first men to use a boat in the Sydney area for surf lifesaving purposes, apart from the use achieved in their profession of fishing, were the Sly brothers of Manly.
The boat, a double ended ship's lifeboat, was converted to accommodate a tuck in the rear.
In 1906, Walter V. H. Biddell, launched at Brotnte a craft named the "Surf King"'.
This was a catamaran- like structure consisting of two kapok stuffed torpedo shaped tubes of wood and tin and painted canvas.
Between these tubes, seating space was provided for three paddlers.
Shortly following its appearance at North Sterne's first carnival in 1908, Cronulla acquired the craft and enjoyed its use for a few seasons.
Unfortunately, it was allowed to disintegrate on Cronulla Beach. Club Captain, Neville Cayley had it buried in the sand.
As early as 1911, the club was receiving letters from overseas seeking advice on the processes in forming a surf club and the general workings of such an organisation.
A minute reference of January, 1911 shows that the club secretary acceded to a request for this information made by Dunedin Surf Club, New Zealand.
Interest in Youth
The Club had been established only a few years and already the Cronulla "Carnival Date" of Easter Monday was a prominent one in the surfing calendar.
As an added feature of the 1913 carnival, the club decided to approach the three local schoolmasters, Messrs. Tonkin, Chiplin and Paterson, with a view to having teams of boys compete in resuscitation and rescue and release work.
This early interest of the club in the local young-fry was to have favourable repercussions during the dark days of World War I which, unknowingly, were just on the horizon.
Cronulla's carnival, while a popular spectacle, drew a large competitive list as is seen by the competing teams on April 13, 1914.
March Past Teams were:- Cronulla, Wollongong Water Rats, Wollongong, North Bondi, Manly, North Steyne, Coogee, Dee Why, Cooks Hill and Newcastle.
The Club costume at this period was a full length type, black in colour with one blue and two white. narrow bands around the midriff.
Beach fashions included the Canadian costumes- two piece affairs.
These consisted of a pair of knickers reaching halfway to the knees, and a jersey reaching halfway down the flank outside the knickers.
In the controversial "neck to knee" days, it was Cronulla who was last to relax its bathing costume regulations.
Councils were given the power to control surf bathing and Sutherland Shire Council adopted a regulation that men had to wear shorts and ladies were to don beach wraps whilst sun-baking.
Some of the "Iothario" members welcomed the job of enforcing the rule, thus making the acquaintance of the visiting lovelies- "put on your Kimino lady", being the opening gambit.
To the Rescue
Cronulla figured in many heroic rescues.
The first recorded was on February 22, 1914 when five men and two girls were washed to sea from Cronulla Beach at about 4.30 p.m.
Patrol members F. Stroud, L. Carroll, E. Rowbotham, F. Stratford, H. Murray, R. Lewis, N. Cayley, W. Marchant, H. Small and A. Cuthbertson battled, against huge seas before successfully returning all the patients safely to the beach.
Surf meritorious awards were not in vogue but the deeds performed on that day were worthy of such.
On the same day, Harold Duckworth, one of our members, was involved in a boat rescue at Dee Why.
Page 7
Two young lads were carried out over half a mile from the beach.
Dee Why Instructor, Jack Taylor and Duckworth manned a flimsy skiff and ventured through the surf to finally rescue the boys and return to the vicinity of the shore where the boat capsized.
However, help was close at hand and the patients were returned to shore where resuscitation presently restored them.
For his heroic part in this rescue, Duckworth received the Royal Humane Society's Award.
Both these rescues made headlines in the Evening News.
Famous Visit to Cronulla
One of the first famous international visitors to the Club was Duke Kahanamoku, the world famous exponent of surf board riding and at present a prominent civic dignitary of Honolulu.
Exacting preparations for his 1913 visit were undertaken by the club in an effort to make him feel at home.
The Duke and his party were welcomed to the district by the club on leaving the steam train at Sutherland.
Through the generosity of club members, F. Stroud, J. Hallett, J. Monro, L. Giddings, N. Bouffier and J. Hill Snr., making their cars available, the visitors were transported to Audley via Waterfall and Lady Carrington Drive.
After lunching at AudIey, the party joined the ferry to Cronulla, thence to the beach for surfing.
Tea was arranged in the Park Pavilion after which the party was returned to Sutherland for the farewell ceremony.
The Duke brought with him a surfboard which he presented to the Surf Bathing Association of N.S.W.
While there were already surfboard exponents of our own and other metropolitan beaches, Duke Kahanamoku first focussed public attention on surf- board riding in N.S.W.
The visit of this famous surfer also had its effect on the local talent.
The Duke's board later became the property of noted club member, Ron "Prawn" Bow- den, who sold it to Fred Locke, who in turn, signed it over to ,the inimitable Jack McTigue.
Jack, chivalrous character that he was, gave it to a certain beautiful surf siren but alas she married another (ungrateful hussy, recalls Jack).
Members off to War
The clouds of war gathered late in 1914 and Australia rallied to the Empire's cause.
Cronulla club was to feel the full impact of the patriotic attitude of the nation's young sons as some 90% of club members enlisted in the services.
Practically every member of active age was either in the forces or backing up in reserve occupations.
In the desert of Palestine and the trenches of France, club members upheld the nation's fighting qualities - but not without sacrifice.
Four of our members: J. Buisson, Harold Giddings, Ern Tidmarsh, and Gordon Wood, failed to return to the sands of Cronulla.
The many exploits on the battlefield resulted in Military Crosses being awarded to G. G. Gilder and Col. A. L. "Whisky" Dawson; and the Military Medal to Jack Emanuel.
Ern Tidmarsh received the Distinguished Conduct Medal but died in Paris 24 hours before the end of the War.
---
Duke Kahanamoku with his famed surfboard on Cronulla Beach,
February 7, 1915.

Lined behind are:
Harry Hay, Bill Duff, Les Whipp, Charles Rea, Neville Cayley,
Rupert Whipp and Harold Duckworth.

Cronulla Surf Life Saving Club:
Cronulla Surf Scene
Volume 1 Number 2
January, 1968, page 7.
---

Cronulla Surf Life Saving Club:
Cronulla Surf Scene
Volume 1 Number 1 October, 1967.

This cover was used for all issues of Volume 1.
---
Duke visits Cronulla,6 February 1915 - Map
---
Train from Central station,
Sydney to Sutherland
Official welcome and departure,
Sutherland
Club Members' Cars, Sutherland to Audley via Waterfall
Lunch, Audley
Ferry, Audley to Cronulla
Surfing demonstration followed by tea at the Pavillion,Cronulla. Return by ferry.
Map by surfresearch.com.au, 2002
---

Sutherland station, circa 1900
Hiferty page 35

---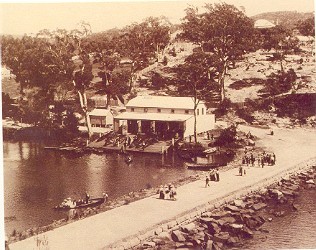 Audley Boatshead and Weir, circa 1900.
Hiferty : page35
---
Duke Kahanamoku, Cronulla Beach February 6th 1915.
i. Warshaw, page 30 (credited as Freshwater, 1914)
ii. Kampion, page 40.(Freshwater, inferred)
iii. Thoms, page 22.
---
Cronulla beach circa 1905.
Longhurst, page 17
---

surfresearch.com.au
---
---
Geoff Cater (2010) : W.G. Marshall: The Cronulla SLSC Story, Part 2, 1968.
http://www.surfresearch.com.au/1968_Marshall_CronullaSLSC_Pt2.html
---