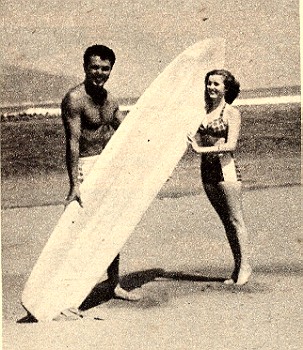 Matt Kivlin, Jr., designer and builder
of the surfboard
with Miss Jean Moorehead.
A Fiberglas-covered surfboard is
easy to make and thrilling to ride.
By Edna Wood
MATT KIVLIN, JR., of Brentwood, Calif., is not only a top-notch "surfer," but he also designs and builds surfboards in his home workshop. According to him, both safety and skill in surfing depend, to some extent, on using the right sized board - determined by the rider's height and weight.
Standard length is about ten feet. If you weigh around 125 lbs., 3 in. of thickness is about right, 3 1/2 in. if you're 140 to 180 lbs., etc.
Glued balsa timbers are left clamped together overnight, then lines are drawn, board is rough-hewn, shaped, smoothed, rough-sanded, coated with plastic resin which glues on Fiberglas. Top coat of resin is applied and allowed to harden dry before sanding. A coat of thick-gloss paint gives the board a perfect finish.