pods for primates : a catalogue of surfboards in australia since 1900
---
---
surfresearch.com.au

history : simon
simon anderson
1980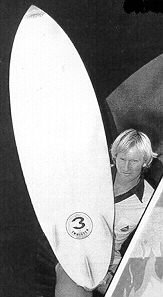 ---
Late 1980
Simon Anderson developes the Thruster design in response to the success of the twin fin 2 in small waves.
Familiar with the Twin fin 1, the Tri fin and Geoff McCoy's No Nose design, Simon was inspired by a Twin fin 2 with a small stabilizer fin in a rear fin box - designed by Frank Williams/Hot Buttered Surfboards (- Ric Gliddon).
The design was tested extensively, one model taken to Hawaii for the 1980 season but not exposed to the media.
Initially treated with scepticism, Simons's succession of contest victories in 1981 (Bells Beach, Coke Surfabout and Pipeline Masters) emphatically heralded the design's introduction and by 1986 it had universal market domination.
See Simon Anderson Reflects on a Decade of Shaping Surfboards (Interview)
Surfing World Magazine Volume 30 Number 1, circa May 1981. Pages 16 to 31.

---
1981 Cue Pro-Junior Contast, Narrabeen,
10 -11th and 17 -18th January
Sixth place to Warren Powell, of Lorne Victoria, riding a Energy Thruster.
Contest report by Nick Carroll (including Warren Powell surfing and board portait photograhs, page 17) in...
TRACKS Magazine, Number, Pages 15 to 18 . March 1981
---
February 1981
The first design article on Simon Anderson's Thruster appears in
Tracks Magazine, Number 125 Page 7.1981. See original article...
Nick Carroll : Three Fins ? ? Simon Says ... Thrussttt !

---

May 1981
The rapid application of Simon Anderson's Thruster design by other top riders and shapers...
Dougal Walker :The Tri-Fin - Did God Mean It To Be?
Tracks Magazine May 1981, Number 128, Page 16.
---
With continuing Australian influence, MR - Bronzed Aussies - Cheyne - Rabbit, many US companies were eager to grab a Australian surfer.
In early 1981 Nectar Surfboards signed on Simon Anderson and were immediately 'saddled' with the latest design fad. - the three finned Thruster.
The design was introduced to the US as early as May 1981, and virtually ignored.

Image Right : Cropped from...
Nectar Surfboards Advertisement
Surfing Magazine Volume Number May 1981 page 7
Reprinted in
SURFER Magazine Volume 22 Number 6 June 1981 page 13

Nectar Surfboards Pro - Series
Dean Hollingsworth - Simon Anderson - Greg Mungall
132 E. Cliff
Solana Beach, California 920775
(714) 755-5492

---

1981 Bell's Beach Contest
Remarkable not only for the largest competition swells since 1965, but also for Simon Anderson's competitve introduction of the Thruster design.
Not only did the board handle the extreme conditions, but Anderson placed first.
---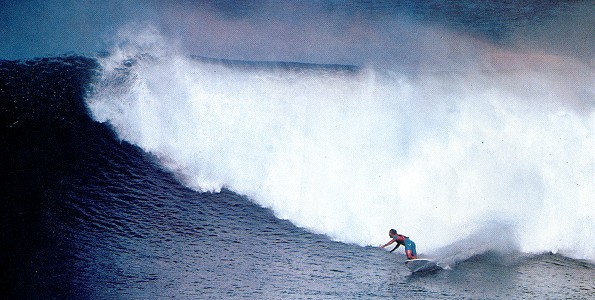 Simon Anderson, Huge Saturday (Energy Surfboards, Thruster)
Photograph : Peter Simons
Surfing Magazine Volume 17 Number 9 September 1981 page 35.
For film of this event see David Lourie, Jack McCoy and Dick Hoole's Storm Riders, 1981.
---
The design had been previously used by Warren Powell at the 1981 Pro-Junior (see sbove), and he also competed at Bells with fellow Lorne surfer, Wayne Lynch, in a "Legends vs. The World" demonstration event.

Wayne Lynch was impressed enough with the design to immediately order three.
His previous experience with early 1970's Tri Fin designs indicated the potential of Simon's fin setup.
Also note Tinkler Tail comments.
- Notes from Personal Interview : 10 March 2005.
Film of Wayne Lynch riding one of his Energy Thrusters, see David Lourie, Jack McCoy and Dick Hoole's Storm Riders, 1981.

As an example of the divergency in design at this time, in second place at Bells was Cheyne Horan, riding a McCoy Surfboards' single fin Lazor Zap.

---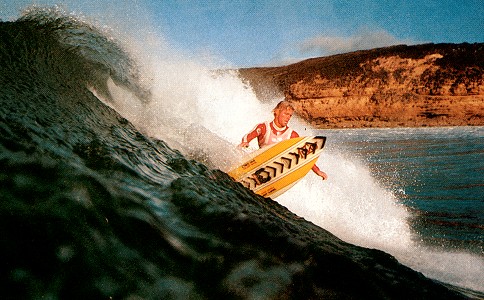 Cheyne Horan, 2nd place (McCoy Surfboards, Lazor Zap)
Photograph : Peter Wilson
Surfing Magazine Volume 17 Number 9 September 1981 page 34
---

Other competitors rode a variety of Twin Fin (Mark Richards, Shaun Thomson) or sinle fin designs, with a variety of models
Channel Bottom Shane - Freefight - Col Smith Surfboards
Clinker Bottom Byrne Surfboards
Drifta Hot Buttered Surfboards)
Common design features included ...
No-Nose, Egg or Foiled templates; Flyers; Channels; and many tail variations.

On the large Saturday, many surfers were under-gunned and opted to ride borrowed boards.
A sudden rise in demand for Energy and Hot Buttered Surfboards was noted.
For example, Marc Price from South Africa borrowed an Energy Thruster in preference to his Twin fin models.

Trials semi-finalist and future World Champion Barton Lynch, had a fine example of big wave backhand surfing when he shared a wave with Wayne Lynch (no relation).
---
RESULTS
1st Simon Anderson
2nd Cheyne Horan
3rd Tom Carroll
Derek Hynd
5th Mark Richards
Terry Richardson
Richard Cram
Gabe Callaghan
Trials
1st. Bobby Owens
2nd. Mark Warren
3rd. Ian Cairns
4th. Mark Price

---
1981
Nat Tri Fin Nat Young's response to Twin fin 2 success, it featured his standard rail and bottom designs with a No Nose template and two 4" side fins and a larger centre Greenough fin.
---
Image left :
Simon Anderson, Narrabeen, Coke Contest, 1981.
Cover shot for Surfing Magazine
Volume 17 Number 9 September 1981.
Caption : ''After back to back IPS wins on his revolutionary 3-fin Thruster, Simon Anderson looks to be the man to beat in '81.''
Photograph : Aaron Chang
---
Simon Anderson and Thruster,
Pipeline Contest, December 1981.
Photograph : Aaron Chang
Surfing Magazine March 1984
Volume 20 Number 3 page 118.
---
Breakout [USA]


April/May 1982 Volume 2, No 6

Simon Anderson's

Thruster

for Nectar Surfboards.



---
1982
Four Fin development of multifin experimentation by Glen Winton following Mark Richard's Twin fin 2 and Simon Anderson's Thruster.
Original design created by removing the trailing fin of a five fin board.
Occassionally reprised, most often on Slab kneeboards.

---
1985
Pro Series epoxy molded board, developed by Bob McTavish from European sailboard technology.
Range of designs (plugs based on several current pro-surfers' boards) and colours with molded 'markings' and/or adhesive 'decals'.

---
1991
Fin Plugs alternative design to the long used Banfield fin box, more applicable to the current thinner and lighter shapes.
First models by FCS and AFS.

---
1991
Mac T: soft rails and deck board with rigid plastic bottom in four models, developed from Morey Boogie technology for the beginner's market by Bob McTavish.
Other manufacturers produced similar boards.
See Morey-Doyle 1974
---
1994
Nadine Kahanamoku attends dedication ceremonies for the Duke Kahanamoku Commenorative Park on the northern headland of Freshwater Beach, 26 January.
A gift to the community by Harbord Diggers Club, Warringah Shire Council and Freshwater Life Saving Club, it features a statue of Duke Kahanamoku surrounded by mosaic plaques dedicated to Australian surfing champions.

---
1998
The Nugget: Geoff McCoy's No Nose/ Lazer Zap design reprised, this time with standard Thruster fins.

---
1998
Phazer: Bonzer / Thruster combination by Rusty Priessendorfer (USA)
---

surfresearch.com.au
---
---
REFERENCES FOR THIS SECTION
BOOKS
1992 Stell, Marion K. : Pam Burridge
Collins Angus & Robertson Publishers (Australia) Pty. Limited
A division of Harper Collins Publishers (Australia) Pty. Limited
25 Ryde Road, Pymble NSW 2073, Australia
1997 Warshaw, Matt : Surfriders – In Search of the Perfect Wave
Tehabi Books, Inc. Collins Publishers, 10 East 53rd Street, New York, NY 10022
1983 Young, Nat with McGregor, Craig : The History 0f Surfing
Palm Beach Press,40 Palm Beach Road, Palm Beach NSW 2108
---

FILM
1985 A History of Australian Surfing Nat Young.

---
MAGAZINES
---
WEB SITES
---

surfresearch.com.au
---
---