His surfing skills were first recognised in the local press on October 2, 1906, with a report that many witnessed George Freeth performing in the surf, at the Moana, on Sunday.
However, while Freeth is listed in the swimming team of the Diamond Head Athletic Club for the second Waikiki Regatta, scheduled for the end of 1906, his name is noticeably absent from the entries for Surf-riding on Boards.

Ford was a widely travelled professional journalist who had published articles based on his travels to China, Japan and Paris and, like Jack London, had previously visited Oahu.
It appears he had planned an short stay in the Hawaiian Islands before sailing for Australia, and Ford may, or may not, have been aware of the impending visit by a party of Congressmen from Washington.

On May 13, some of the Congressional party left Honolulu
to visit Kauai, accompanied by George Freeth and A.H. Ford, who were
probably by now well acquainted; their names appear together in the (non-alphabetical) passenger list, and they may have shared a cabin aboard the steamer
Claudine
.
Apparently, Freeth was accompanying the congressmen as a life-guard to assist the visitors in water-sports, and he and Ford continued to travel with the statesman on their tours of the large island of Hawaii, and then Maui.

The Snark was off Waikiki by the morning of May 20 and anchored in Pearl Lochs, west of Honolulu, by the afternoon.
This was a disappointment for many locals who had hoped the famous author would have a far more public presence by mooring at the Honolulu docks.
Beginning on the morning of March 21, Charmian London's Diary, published in 1917, records that Jack had already planned to moor the Snark in Pearl Lochs, with use of an cottage adjoining the home of Albert Waterhouse.

The London's spent their first days ashore recovering from the voyage, organising repairs to the Snark, and reading a range of Hawaiian related literature.


The Snark moored in Pearl Lochs with Jack London ashore, 1907.

Ford, and presumably Freeth, did not return to Oahu until the 25th, arriving on the steamer
Kirau
from
Hilo and way ports
.
On May 27, Jack and Charmian travelled to the city by rail, lunched at the Young Hotel's roof-top cafe and, after obtaining two little bay mares from Mr. Roswell, rode back to Pearl Lochs.
Incidentally, Charmian rode astride her
Australian saddle
, assured in the knowledge that this style had been readily adopted by local female equestrians, which scandalised civilised ladies, who only rode
sidesaddle
.
The London's attended, along with three thousand other guests, a Royal engagement for the departing Congressional party at the home of
Princess Kalanianaole
at Waikiki on the evening of May 29, and the next morning the couple retuned to Waikiki on horse-back.
That evening they dined at the Royal Hawaiian Hotel in Honolulu where
Alexander Hume Ford introduced himself and, after being invited to join their table, dominated the conversation for the next two hours.
Probably invigorated by his most recent exploits with George Freeth, he talked at length of his most recent enthusiasm,
reviving the old Hawaiian sport of surf-boarding.


Ford's vision of himself as the saviour of the ancient art is now embedded in surfing history.
In fact, interest in surfing in canoes and on boards at Waikiki had been steadily growing since the formation of the Hui Pakaka Nalu in 1897.
Crewed by native owners, managed by W. W. Dimond, a fleet of eight canoes offered
the pleasure of canoe surfing to all.
for $1.00 an hour.
By the turn of the century illustrations and photographs of surfing were regularly used to promote Hawaii tourism and appeared in books and newspapers around the world
.

The first modern surfing competition at Waikiki was held in March 1905, Bonine filmed surfing for the Edison Company in 1906, and just weeks before Ford arrived, Harold Hustace, from a field of at least ten skilled competitors, won the surfboard riding event.at the second Waikiki Regatta.
Hustace, like virtually in all the accounts of surfboard riders since the mid-1890s, rode standing.

Aware that the London's had

taken a cottage at the Seaside at Waikiki,

Ford arranged to visit and show us how to use a board.
He provided a suitably large board and after one day of instruction, both Jack and Charmian successfully rode prone on several waves.
Jack's enthusiasm,however, resulted in a severe case of sunburn and by June 4 he was confined to bed where he immediately began, with Charmian taking dictation, his landmark article, A Royal Sport.

Published under the title Riding the South Sea Surf, this first printing was prefaced by a quotation by Mark Twain, that concluded none but natives ever master the art of surf-bathing thoroughly.
Fifty years later, London writes in glowing terms of the local natives' skill and style on the large waves breaking on the outer reefs of Waikiki.



Charmian and Jack London, Honolulu, 1907.

Integrating science and art, his analysis of
wave motion theory
, well known in scientific circles by
1867
, has been replicated, usually as chapter one, in numerous surfing books and is the foundation of modern surf forecasting services.
London's explanation of the basic dynamics of surfboard riding could be based on some of his research, or was perhaps collated from discussions around the beach, where it was understood that
the wave lifts and pushes the board and rider slides down the glossy surface, yet never falling lower.

The subject has only been reprised very occasionally, and usually with little further rigorous inspection
.

Jack London relates how, with Ford's assistance, he learns to catch small waves on an inside reef close to the beach at Waikiki, and ride prone using his legs to steer.
Impressed, and envious, of the local experts who ride standing on the larger waves breaking on the outer reefs, the following day he and Ford venture out to a larger break, accompanied by George Freeth.
Whereas London accredits Ford with mastering surfboard riding in a matter of weeks and without the benefits of instruction, Ford later wrote that he
learned from the small boys of Waikiki
and that it took
four hours a day to the sport for nearly three months.
Jack successfully rides prone on some larger waves, but now suffering from severe sunburn, the article concludes with him dictating from his bed and resolving to ride standing, like Ford and Freeth, before leaving Hawaii
While Jack London was dictating from his bed, it was announced that George Freeth was available for swimming and surfing lessons at the Seaside Hotel every day between 8:30 am.and 6 pm.
Meanwhile
, Ford had a long letter
published
in the local press calling for the produce and delights of Hawaii to
be vigorously promoted to
the world; the strength of his commitment to the Hawaiian cause
demonstrated
by undertaking baptism-by-surfboard:

Forgive me if I presume to write these lines as though I was an Hawaiian, but it is to me as though I am a kamaaina,
for I have learned to ride your native surf board, and in the memory of that victory and the toils and pains I accomplished it,
I may be fairly inscribed as one who has suffered sufficiently on your Islands to love them and sympathize with them.
Most of the
Congressional party embarked for home aboard
the transport Sherman on June 1
and the next day, a Honolulu reporter detailed some of the works in the
Snark's
library; which include
the seventeen volumes London has written himself
.
Not recorded, but most probably aboard were copies of Mark
Twain
's
Roughing It!
(1872), a recent book on oceanography, and Charles Warren
Stoddard
's
South Seas Idylls
(1873).
Following the piece about Jack London was reference to
another well known magazine writer in Honolulu just at present, preparing articles for Outing magazine on surfing; t
his was undoubtedly Alexander Hume Ford, and the implication that he was "working" for
Outing
Magazine
carried considerable weight, having
just serialised London's latest
novel
,
White Fang
.
In addition, to illustrate his work Ford had
a series of photographs taken of George Freeth on a surfboard
, the photographer suggested byTim DeLaVega (2011) to be Edward P. Urwin.
Freeth's second appearance surfing for the camera, these can only be shot in the days following Ford's return to Honolulu from Hilo.on May 25, the first two weeks earlier for the visiting Congressmen.
Ford was also reported as saying he was going
to advocate is the introduction of surfing at Atlantic City
, and had
a picture of himself
...
to show how easy it is.
However, the reporter noted that although
the camera tells no lie, it failed to show the half-drowned Freeth under the board holding it steady while the bold and skilful rider balanced in a pose long enough for the photo to be taken.
Three weeks later, two of the photographs appeared in the Honolulu press, along with Ford's first article about surf riding.
By June 11, Jack London had recovered enough to visit the Ewa plantation with his wife and Ford and then all three embarked on an extended tour of Oahu by automobile with a round of social events, including Jack's attendance at a boxing match.
From his arrival, Ford was aware of George Freeth's desire to relocate to California to pursue his career as swimmer, diver, surf-board rider, lifeguard, and as an instructor in all; and his first surfing article, apparently, served to advance Freeth's career.
Titled
Freeth Will Ride Atlantic Rollers!
, it appeared in the
Pacific Commercial Advertiser
on June 23, with two photographs shot at the end of May, and was reprinted five days later by the
Hawaiian Gazette
.
Ford claimed that George Freeth was
the only man Iiving who has ever surfed on the Atlantic coast
and was now planning a return visit.
As discussed above, it is possible that George Freeth did ride a board at Atlantic City around 1904, and if so, it was then highly probable that he would have mentioned it to Ford, who had only recently announced his intention
to advocate the introduction of surfing at Atlantic City
.
However, in his re-telling of Freeth's adventures, Ford concocted a series of events that, especially for any local readers with some surfing experience, appears almost fanciful; or, perhaps, even comic, in a misguided attempt to emulate the style of his hero, MarkTwain.
The story goes that George stowed away on a steamer to Atlantic City, shaped a surfboard from a
woodpile when the cook wasn't looking
, taunted the local life-savers in a row-boats he rode standing on his head,
zigzagged between the pier legs
, and, for his efforts was apprehended by the police.
But now, George Freeth had the support of some of the biggest athletic clubs of New York, the Hawaii Promotion Committee, Jack London and Alexander Hume Ford
, who has made George the central figure in the articles he has written for Outing magazine on "Surfing, the King of Sports."

Ford also stated that he had sent this photograph of George surfing, along with his article, to Outing. .
Copyrighted by Alexander H. Ford it had been pronounced the very best photograph ever taken of a surfer in action; Ford having stood up to his neck among the breakers for days in order that he might be able to get a series of such photographs.
This was most probably one of photographs, pribably by Edward P. Urwin, that Ford arranged to be taken of George Freeth at Waikiki sometime after May 25, around the time of his first meeting with the London's in Honolulu, and before the event was noted in the local press on June 2.



George Freeth, Spinning in on a swift one, Waikiki, May, 1907


As surfing photographs had been in circulation since Dr. Henry Bolton first snapped surf riders on Niihau in 1890, not to mention the Waikiki footage filmed for the Edison Company by Bonine in 1906-7, the very best photograph ever taken of a surfer was a bold claim.

The projected article and the photograph of Freeth never appeared in
Outing
, although it did appear, along with some of George taken earlier, in Ford's
A Boy's Paradise in the Pacific
, published (with different captions) in the, somewhat less prestigious, children's magazine
St. Nicholas
in August 1908.
The second photograph appearing with the article, titled
Surf rider balancing on the crest of a breaker
, invites speculation that it is possibly the one Ford commissioned of himself
to show how easy it is.
Certainly, given his involvement with the Congressional party, by the beginning of June 1907 Ford could only have been riding a surfboard for less than a month, perhaps giving some credence to the reporter's assertion that
it failed to show the half-drowned Freeth under the board holding it steady.
However, a far more likely candidate is
Keeping just behind the breaker
, published the next year in
St. Nicholas
.
While the rider appears to be probably standing on a board, he cannot be said to be riding a wave.
SURF RIDER BALANCING ON THE CREST OF A BREAKER


Pacific Commercial Advertiser, June 23 1907.


KEEPING JUST BEHIND THE BREAKER. St. Nicholas Magazine

, 1908.



On June 30 it was reported that that the London's were back at Waikiki.where
Mr. London has become quite an expert on the surf board.
However, while it was said that they will remain there for the remainder of their stay in Honolulu, the next day they departed for the
leper colony
on Molokai, returning to the grounds of the Seaside Hotel on the July 7.

While relaxing on Molokai, Charmian London's Diary records that some one recalled a story of Charles Warren Stoddard's, where the author and Joe talked about the old times, walking arm in arm, and arms about shoulders, in Sweet Lahaina.
The story of Joe of Lahaina appeared in Stoddard's South Sea Idyls, however, the London's may have had the English edition, titled Summer Cruising in the South Seas (1874)
Illustrated by Wallis Mackay, it was the first book depicting surfboard riders on the cover; as in many of her surfing illustrations, naked females.
At one time Mark Twain's secretary, Stoddard visited the Hawaiian Islands four times between 1864 and 1867, and although only acquainted through correspondence, he and Jack have called each other Dad and Son for years; their recent correspondence including a letter by Stoddard introducing Jack to Queen Liliuokalani.

Over a century later, it is impossible to know to what extent contemporary readers were aware of the book's homo-eroticism, including Jack and Charmian London, whose marriage had included open sexual experimentation.

Joe of Lahaina has a
figure so fresh and joyous that I began to realize how the old Greeks could worship mere physical beauty.

Between
house-keeping
, and his regular visits to church, Stoddard takes time to counsel Joe on
becoming a true and unterrified American.

However, he does not comment on the, now,
double entendre
of
cruising
in the English edition's title, or on Stoddard's surfing companion on Maui,
Kahele
, who was
the gayest of the gay, and the most lawless of the unlawful.


A week after Ford had intimated that George Freeth intended to demonstrate surfing on the Atlantic coast, the press reported on July 3 that George, now designated probably the most expert surf board rider in the world, had sailed aboard the Alameda to give swimming and surf riding exhibitions on the Pacific coast.
Whereas Freeth had indicated earlier that he and "Dudy" Miller would travel to Southern California, with a surfing canoe and surf boards, he was instead, equipped with a supply of surf boards and accompanied by Kenneth Winter.
It is unclear if Ford's profile, published ten days earlier, or Freeth's association with Jack London, in any way assisted in obtaining financial support from the Promotion Committee, or anyone else, for Freeth and Winter's passage, and the transportation of their boards, to California.

After less than a month in California, Kenneth Winter returned on August 8, and by mid-1908 he was elected the first captain of the Outrigger Canoe Club.
He later shared a controversial victory with Sam Wight at that year's Waikiki Regatta; riding long, heavy boards, they won easily; defeating the 1907 champion, Harold Hustace, who turned in vain on his diminutive board.
As a result of the victory, the journalist predicted that the fashion in boards will now turn to something long, thick and narrow.




George Freeth
Honolulu, July 1907.

On his departure, Freeth was said to have
probably done more to revive the wonderful art of the ancient Hawaiians here at home than any other one person,
the title aspired by A.H. Ford.
While Freeth was undoubtedly an outstanding athlete, swimmer, diver and surfer, there may have been some long-term locals who quietly questioned George's recent promotion as the most skilled board rider at Waikiki.
The London's visit to Molokai was followed by visits to some of the other islands by inter-island steamer, the Snark still undergoing repairs, but they returned to Waikiki in late July, and were invited to dine with Mr. and Mrs. Frederic J. Church and their guests, Mr and Mrs. Nicholas Longworth
Mrs. Nicholson was better known as Alice Roosevelt, daughter of the serving President, Theodore Roosevelt,
Her husband was a Republican party leader, Speaker of the House of Representatives, and fourteen years her senior.

Staying for a month in the largest of the cottages at the Seaside, at the start of August the Longwoth's went canoe-surfing with Jack Atkinson, with crowds of spectators on the beach watching the canoe riding the crest of the waves.
This was not a new experience; during their first visit with the Taft party in mid-July 1905 they had surfed in outrigger canoes, along with then Secretary Taft.
After riding with Jack Atkinson, Alice remarked that surfing is glorious.

During the Pacific voyage in 1905, young Miss Roosevelt was, obviously, not short of attention.
Although Washington gossip had Longworth as her accepted suitor, Miss Roosevelt did not let that matter interfere with her enjoyment, the Hawaiian press also noting Rhode Island's Stuyvesant Fish Jr. and Roger K. Wetmore , also visiting aboard S.S. Manchuria, along with locals Jack Atkinson and Walter Dillingham, as particular admirers of Miss Alice Roosevelt.





Alice Roosevelt, c1904.
After canoe surfing at Waikiki, Aitkinson had mailed
a fine collection of pictures of Miss Alice Roosevelt to the President
, and in Honolulu there were high.expectations that they
would appear in Collier's, Harper's, Leslie's and a number of newspapers all over the country.
However, despite his best efforts to promote surfing at Waikiki, it appears none were ever published
Alice recalled
Mr.Taft pleading with photographers not to take photographs of me in my bathing suit.
It was considered just a little indelicate, the idea that they might be taken and published.
And a bathing suit was a silk or mohair dress, not at all short, high-necked and with sleeves, and, of course, long black stockings!

At the end of July 1905, the
Chicago Tribune
attempted to avoid offending the President by publishing a modest illustration,
from a photograph
, revealing the young lady's back and, despite Alice's recollection that she was wearing sleeves, one naked arm.
It is impossible to identify anybody in one photograph from the Taft party's visit in 1905, a panorama of Diamond Head with several canoes sporting in small waves, held in the archives of the Smithsonian Institution.





Alice Roosevelt Enjoying the Surf in
Hawaii on Her Way to the Orient.


(From a photograph)



Miss Roosevelt wielding a paddle while surf riding. She is at the end of the canoe, on the right.

Chicago Tribune

July 30, 1905.






Canoes in the Surf, Waikiki, July 1905.

Alice in Asia: The 1905 Taft Mission to Asia Freer Gallery of Art and Arthur M. Sackler Galleries Smithsonian Institution http://www.asia.si.edu/research/archives/alice/



Jack Atkinson was also a guest the Church's dinner, at the Turkish room of the Seaside in early August 1907, for the Longworth's and London's; the later now guests of Mr. and Mrs. Lorrin A.Thurston until the sailing of the
Snark
for the south.
It is highly probable that the evening's conversation included a mutual appreciation of the joys of surf-riding.
As Jack London was a renowned Socialist, politics was very likely avoided, as was the President's recent public questioning of the author's account of a fight between a bulldog and a wolf.

On August 8, 1907, the Hawaii Promotion Committee was delighted to learn that Jack London's article on surf bathing in Hawaii would probably appear in the October number of the The Woman's Home Companion, a national magazine with a circulation in excess of half a million.
Three days later, Alexander Hume Ford's extended account of the Hawaiian tour of the Congressional party appeared in The World Today.
Repairs were completed and the Snark provisioned before Jack, Charmian, and their new crew, sailed for Maui on August 15.

George Freeth was now in California, the
Snark
was sailing around the Hawaiian Islands, and in mid-August, Ford also left Honolulu and was now cruising around the Fiji Islands.
There he surfed with the natives on Taveuni Island, although they
merely hold a small board in their hands, and have never heard of anyone standing on the board.
Travelling by inter-island steamers, Ford continued on to New Zealand.and was in Australia by the end of October, 1907.
As such, it was probably several weeks before he became aware of a glowing assessment of his achievements at Waikiki in
The Pacific Commercial Advertiser
of August 26; in three months Ford had become a proficient surfer,
to a very considerable extent
, and had
imparted his enthusiasm to the community.
Just as importantly, he had
formulated instruction in it
: teaching
others how to teach the acquisition of the art.
This success was even more impressive in light of the reporter's assertion that
two or three years ago the feat of standing upon the surf board survived only in the power of two or three in the whole community.
After visiting several of the Hawaiian islands, the
Snark
sailed from Hilo for the Marquesas Islands on October 7 and on the same day,
under the heading
Jack London Tells Of Surfing
, the
Hawaiian Star
heralded the publication, along with some excerpts, of his eagerly anticipated surfing article that featured Freeth and Ford.
The question posed by the
Hawaiian Star
,
Did he stick to his intention to ride a surf board standing before he left in the Snark?
,
remains unanswered.
Initially appearing in
The Woman's Home Companion
under the title
Riding the South Sea Surf
, the following year it was reprinted in England by
Pall Mall
as
The Joys of the Surf-Rider,
with an illustration by P.F.S. Spence; and thereafter extracts appeared in newspapers around the world.
In 1911, it was appeared as Chapter 7 in a collection of London's writings from the Pacific,
The Cruise of the Snark
, under the heading
A Royal Sport
, by which it is now commonly known.






P.F.S. Spence:
A young god bronzed with sunburn.
in
Nakuina, Emma Metcalf:
Hawaii, Its People
and Their Legends.
Hawaiian Promotion Committee,
Honolulu, H.T., 1904.


Reprinted with Jack London's
The Joys of the Surf-Rider
Pall Mall
November, 1908.





London, Jack:
The Cruise of the Snark.
Macmillan and Company, New York, 1911
No stranger to controversy, Jack London stories continued to appear in the Hawaiian press.
Not for the first time, Jack's seamanship was questioned; one of the crew on the trip from Honolulu to Hilo complaining that everyone acted as captain, occasionally the cook,
but most of the time it was Mrs. London in bloomers
.
And from Hilo came news that Jack's cheques to some local merchants were being returned from his Oakland bank, endorsed not sufficient funds.
While it was generally assumed that the bad checks were a simple mistake in his calculations, there was some sympathy for the Hilo men with the missing coin.




Bank of Hawaii Ltd., Honolulu,13 August 1907
E.O. Hall and Sons, $9.96, endorsed Jack London




E.O. Hall and Sons was a large retail store on Fort and King Streets, Honolulu.
In the summer of 1907, in less than tree months, the combined talents of Freeth, Ford and Jack London left an indelible mark on surfing history.
Alexander Hume Ford was the first to return to Hawaii, arriving from Australia.on March 3, 1908.
In Sydney he was aware that the local surf life-saving clubs were agitating for prime beach-front club-houses, which possibly prompted his enthusiasm for a similar development at Waikiki, the
Outrigger Canoe Club
.
Ford managed to get a few more of his articles accepted by magazine editors but after 1911, his work was in constant demand in Honolulu, required for the pages of his self-published
Mid-Paci
f
ic
M
agazine
.
George Freeth was rumoured to be returning to Hawaii in 1909, but arrived on September 28, 1910, and competed in water polo and swimming competitions
.

Although A.H. Ford made a case for keeping the highly skilled professional surfer-lifeguard at Waikiki, he soon returned to the beaches of California.
Jack and Charmian London did not return to Waikiki until 1915 when they were welcomed by Ford to the now world-renowned Outrigger Canoe Club.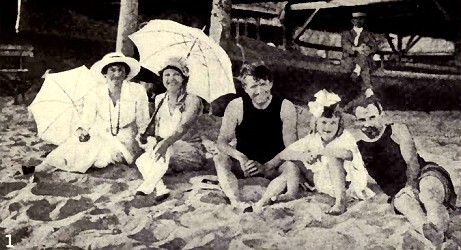 Waikiki
, 1915. Mr and Mrs. London (center), A.H. Ford (right).

---
References
---
Photographs

---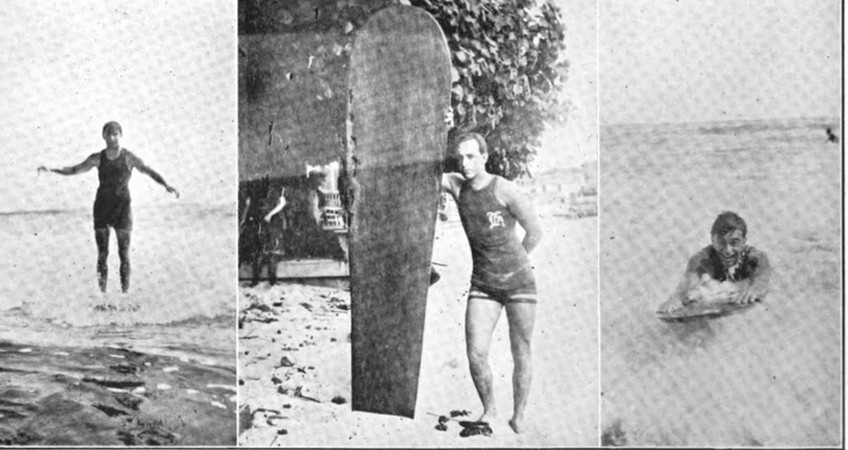 A Distinctive Hawaiian Sport
George D. Freeth, Champion

Surfboard

Rider, on the Breakers
Acheson, Ernest Francis:
Congressional Party in Hawaii, May, 1907.
Observer Job Rooms
, Washington, Pa.,
1907
---
Alexander H. Ford :


George Freeth, Spinning in on a Swift One, 1907.

As accredited when published in
The Hawaiian Gazette, Honolulu, June 28, 1907, page 6.

The photograph accompanies an article by Ford extolling the surfing skills
and, the occasionally questionable, exploits of George Freeth.
The photograph is captioned "Photo copyrighted by Alexander H. Ford,"
and the text reports Ford's difficulty in securing the shot.

However, in Surfing Hawaii (2011) page 48, Tim DeLaVega
accredits the photograph to Edward P. Urwin in 1908.
It is also possible that the surfrider is not Freeth.


Later printed, without identifying Freeth i
Alexander Hume Ford: A Boy's Paradise in the Pacific, 1908.