- surfer/actor/contest promoter Stubbies
CONTEST RECORD
1965 Australian Championships, Manly NSW. 1st Junior
1966 Australian Titles, Coolangatta, Qld. 1st Junior
1967 Australian Titles, Bells Beach Vic. 2nd
1969 Australian Titles Margret River WA. 2nd
1970 Australian Titles !st
1970 Shirmoff Pro Sunset Beach Hawaii 4th
(-second professional contest, first at Steamer Lane, California.)
1970 Makaha International Surfing Championships !st
1970 Duke Kahanamoku Invitational Sunset Beach Hawaii 2nd
1971 Australian Titles, Bells Beach. 2nd
1972 Bells Beach Contest 2nd
1974 Bells Beach Contest 2nd
1977 Bells Beach Contest 2nd
1984 World Masters Super Challenge, Queensland 2nd
REFERENCES
Books
Warshaw, Matt :The Encyclopedia of Surfing 2004
Pages 166 to 167.
Note - The entry excludes Peter Drouyn's win at Makaha in 1971, howerver it is listed in the entry for the Makaha International Surfing championships, page 358.
Film
1967 May The Hot Generation Paul Witzig.
1967 High on a Cool Wave, Bob Evans.
1970 Evolution Paul Witzig.
1973 Drouyn Bob Evans - note that all Bob Evans films, many others featuring Peter Drouyn are not available on video/DVD.
1974 On Any Morning David Sumpter
Magazines
1. Chris Brystom : Peter Drouyn : The Missing Link - Interview
Pacific Longboarder Magazine, Volume 1 Number 3 1997. Pages 26 to 39.
Image left, Uncredited, page 35
2. Tim Baker : Too Long In Exile... Peter Drouyn.
Deep Magazine, Issue 10, Autum 1997. Pages 14 to 21, and 67.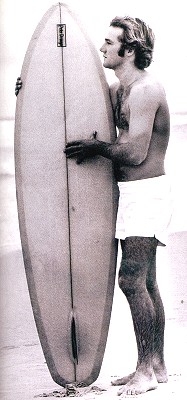 ---
Peter Drouyn's 1970
Australian Titles and
World Contest`Board
Uncredited photogaph
PBL Magazine Vol 1 No3
Page 35