pods for primates: a catalogue of surfboards in australia since 1900
---
---
surfresearch.com.au

nick carroll : three fins ? 1981
THREE FINS ??
SIMON SAYS ... THRUSSTTT!
By Nick Carroll
---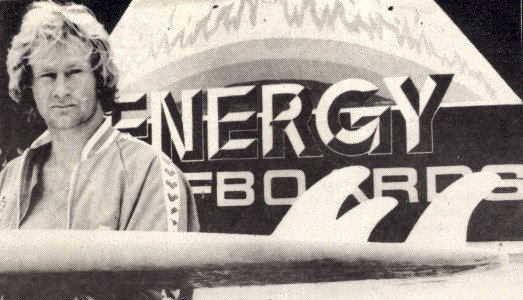 1.
---
Of late many modern surfers have revived the old late Sixties catchphrase "two fins are better than one!" Could "three fins are better than two" become the cry of the Eighties? A new design by Simon Anderson suggests this may be the case.
---
As most people invoived in surfing are aware, Simon Anderson is an awe-inspiring performer in large, powerful surf; but Anderson's massive frame, so useful in heavy conditions, often becomes a drawback in the miniscule dribble that unfortunately many IPS pro events are blessed with.
Anderson depends on these events to maintain his top-ten professional ranking. A while ago he realized that he had to find some way in which to balance the odds that seemed stacked against him in comparison to the superhuman small-wave performances of surfers like M.R., Cheyne Horan and Dane Kealoha. At the Energy Surfboards factory deep in Brookvale's industrial heart, Anderson went to work in an attempt to find a board that would aid him in his mission.
The result has been a three- finned creation which he has proudly named the "Thruster (okay, run through all the horrible connotations that have immediately risen from the dank pits of your grubby little minds. Better now? Good.) During the past two years Anderson has tried various (and at the moment, perhaps more accepted) designs. He built some twin-fins and used them with some success in waves under the two-foot mark but found that as soon as the swell grew any bigger he was forced by the twin-fin's inherent lack of directional stability to switch back onto a single fin. This change is not an easy one to make on the spot as the single fin suddenly feels harder than usual to manoeuvre, relative to the twin (and of course vice versa). Competition conditions can change radically and in pro events, where a continual high standard has to be maintained in heat after heat, the chopping and changing of surfboards can prove fatal.
Anderson, therefore, put aside the twin-fins and turned to the "no-nose" concept, a design popularised by Geoff McCoy that combines an exceptionally narrow nose and wide tail with deep rolled vees and tail lift. This design is very loose when surfed solidly from the tail, and when Anderson drew out a series of flyer squaretails featuring the basics of the McCoy ideology, he had high hopes for its success. However although he found this design effective at first, he soon saw that he was missing out on the "skating" speed effect that makes the twin-fin alternative so adaptable in small surf. Anderson did the logical tlting, and thought about a combination of the two ideas.
He shaped a basic Anderson version of the no-nose with a slightly wider, heavily squared- off tail, and fitted two abnormally small, slightly raked fins into the normal twin-fin positions. He then ground out an upright little baby single fin and placed it on the stringer about two inches up from the end of the tail section. The resultant Thruster looks rather strange at first sight, something like an aircraft with landing gear down, but once having accepted the idea it is easy to see how functional the design is. Simon himself is pretty low-key in attitude about his designs, but after using a small Thruster in waves of up to six feet both in Hawaii and here at home, he is enthusiastic about the potential of three fins in all conditions.
"I want to work on one that can be used in the six-to-fifteen- foot range," he says seriously. "I really like surfing them. You can surf into situations where twin- fins refuse to go but it moves as fast or faster than a twinnie speed isjust easier to direct, that's all."
Although he is obviously excited about the Thruster Simon is quick to point out any drawbacks, and says that the twin-fin "wobble" factor is still present to a degree. However it is doubtful that this could be wiped out in any board that makes use of the twin-fin's good points.
Anybody can be negative about board design and in the Thruster's case there seems little point in inventing denigration, especially as Simon is prepared to prove its worth in the approaching Australian leg of the 1981 pro circuit. Oh, and one more thing for any twin-fin fanatics out there - the Thruster can also be surfed BACKHAND!
---
Statistics:
6'2" in length,
20 1/4" wide,
2*" thick,
12 1/4" nose,
16" tail.
Single flyer 12" up,
square tail.

Basic low soft rail with
edge tucked under.

Deep rolled vee in
bottom toward tail.

2.
---
Tracks Magazine,
February 1981 Number 125 Page 7.
Photographs : Bill McCausland
---
NOTES
1. Image #1: Simon Anderson and one of his first Thruster designs, probably made late 1980.
Outside of the Energy Surfboards factory 43 Carter Road Brookvale.
The company was started in 1975, after Simon Anderson had spent 6 years at Shane Surfboards
In this period other company employees included...
Butch Cooney, Steve Cooney, Terry Fitzgerald, Bob Kennerson, Peter Cornish, Peter Cornish (DY), Richard Kavanagh, Judy Trim, Michael Hall, Russell Spencer, Glyn Ritchie, David 'Baddy' Trealor,
Richard Harvey, Tanya Binning, Jack Knight, Gordon Knight, John Fleck, Chris Young, Chopper Fred, John
Harris, John Irwin, Trevor Hewtson, Tony Hardy, Josette Legarde and Phyylllis O'Donnell.

2. Image #2 : Massive cutback, probably Narrabeen, in less than quality conditions.

3. First known design article featuring this design.

Detailed contest dates and results requiresd here
Sufabout, Narrabeen - ?
Bells - Easter ?
Pipe Masters probably Dec 1981.

4. By next major TRACKS magazine article, 3 months later, several top Sydney surfers and shapers are developing the design.
See Dougall Walker : The Tri - Fin
TRACKS Magazine, May 1981 Number 128 Page 16.

5. The above article was one entry in a two page design article titled
Australian Unorthodox : The Religion of Oz Design.
The other entries were...
Terry Fiztgerald : Drifta III
Rod Hocker on Concaves and Fin boxes,
Geoff McCoy Design,
Michael Rae on Flex tails,
Phil Byrne on Clinkers and a
Col Smith (Newcastle) interview about Channel Bottoms.

6. For an indepth retrospective by Simon Anderson, 1971 to 1981, see
Simon Anderson Reflects on a Decade of Shaping Surfboards (Interview)
---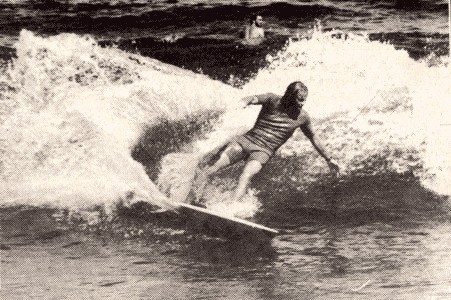 ---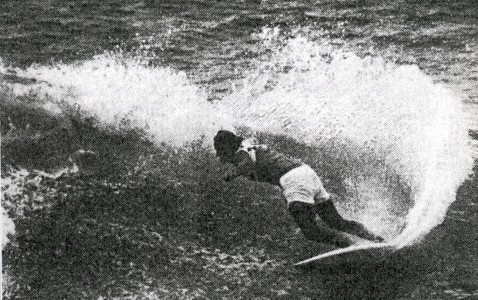 - the Thruster can also be surfed BACKHAND!
---

surfresearch.com.au
---
---