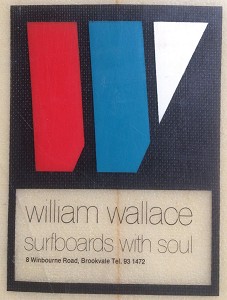 THESE SO CALLED POPOUTS ARE ALL HAND SHAPED GLASSED,
AND FINISHED IN THE CUSTOM MANNER AND CARRY THE MANUFACTURERS LABEL AND GUARANTEE.
Available at all leading Surf Shops throughout Australia.
Free packing and delivery anywhere in Australia. No delays.
WILLIAM WALLACE SURFBOARDS
8 WINBOURNE RD., BROOKVALE. PH. 93.1472

5ft 6" Twin Fin: 22.5" wide x 3.25" thick, price $75.
Junior Model: 21" wide x maximum thickness 3.5", price $59.
5ft 8" x 21" wide x 3.5" thick, price $65.
6ft x 21" wide x 3.75" thick, $69.