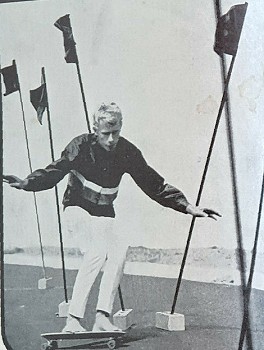 A Midget Farrelly is always the winner.


Whether you scream downhill through a tight slalom course or destroy a flat surface with a series of spectacular ticks,
the Midget Farrelly Surf Skate is built for you.
Constantly improving the quality, we bring you great new tops, even better finish, brilliant new forgings, more and more.
In fact our surf skates are getting so good that we are starting to feel sorry for the opposition.
They don't have a chance!

So why don't you visit your nearest Midget Farrelly retailer and see for yourself
the wonderful new range of Midget Farrelly Surf Skates.
There is sure to be a model to suit you at a price you can afford.


Surfing Promotions Pty. Ltd, P.O. Box 64 Avalon Beach, N.S.W.