pods for primates : a catatogue of surfboards in australia since 1900
---
---
surfresearch.com.au
gartner : water sled, 1933
Paul W. Gartner : Hawaiian Water Sled, 1933.

---
Extracted from
Paul W. Gartner : Hawaiian Water Sled is Easy to Build
Modern Mechanix: How to Build It
(1933 Annual)
Modern Mechanics Publishing Co.
Minneapolis, Minnesota,1934, Pages 84, 85 and 86.
Originally printed in:
Modern Mechanix Magazine
Modern Mechanics Publishing Co.
Minneapolis, Minnesota,1933, June 1933, page 3.

---
Introduction.
The first of several articles by Gartner and Tom Blake promoting the later's Hollow board design, Blake's initial experiments beginning circa 1926.
---
Hawaiian Water Sled is Easy to Build
Through arrangements with the patent holder the author and How-to-Build-It here
present this fine piece of aquatic sporting equipment which has many novel Uses.
Build one and get a new thrill sliding down combers at the sea shore!
Page 84.

You are 300 feet off the beach in a heaving warm surf.
You watch your chance of catching a big comber just as she breaks, and as the sled breasts the sea you flip your lIttle water sled end for end, heading her nose toward shore.

The sea lifts and starts to break.
But it never does as far as you are concerned!
You are sliding down the forward face of the great warm wave at 30 miles an hour!
The sled is going so fast that it has become very stable, and you can get up and stand upon It.
Say, is this fun? Wow!!

The original Hawaiian water sleds or surf boards are solid planks of light native wood.
But Thomas E. Blake, a friend of mine, has improved the original water sled until the product shown here is even superior, faster and lighter than the original Waikiki article.

Blake was a life guard at Waikiki and these are his own plans.
The resulting sled is so good that he had it patented, being issued U. S. Patent No. 1,872,230.
We have a letter, forwarded to the editor of HOW-TO-BUILD-IT, allowing every reader to build from tbese plans.
Of course, it is understood you are not to build a sled for sale.
The new sled is bigger and lighter than the Hawaiian article.
The hollow surf board is operated with the rider lying upon his stomach on the rear haIf.
Holding his head up he rotates his arms at the shoulders, simultaneously dipping with both hands as if they were the oars of a boat.
When underway, the board fairly skims the surface, its bow high, the top surface of the stern at water ...
Page 85.
... level.
It is very sensitive to applied power and may be stopped within a few feet by the operator dragging both feet and hands.

Sled Easily Carries Two Persons
In the case of a rescue the water sled can carry two persons almost as easily as one.
The second person, possibly a near victim of drowning, rides in almost the middle of the board, held steady by the operator's shoulders and arms.
Although the Hawaiian water sled was developed primarily as an aid in lifesaving, it has become quite popular as a craft for racing and taking short cruises, so to speak.

A person possessing strong, supple shoulders can readily travel distances which may be measured in miles. Paddling the board is emphatically a sporting way to develop the shoulders and back muscles.
And of course, it may be used for wave riding after the manner of the ordinary surf board.
Hawaiian water sleds may range in length from 12 to 18 feet, by 22 inches in width, the maximum width being two-thirds of the length forward.
They weigh from 40 to 60 pounds, depending upon the size and the weight of .the deck.

The sides taper from a pointed 2 1/2 - inch stern to a rounded 1 - inch bow.
Both top and bottom decks are beveled, the deepest portion of the ...
Page 86
... board, 4 1/2 inches, being two thirds of the length forward.
The greatest beveled thickness in the top deck is 3/4 of an inch, while in the bottom it is 1 1/2 inches.
The frame of the water sled is entIrely of spruce.
There are from 10 to 13 transverse braces 3/4 of an inch thick, with holes bored or scrolled to eliminate weight and to make the interior of the board a single air chamber.
There are three lateral braces along the top and three along the bottom, each 1 1/2 inches wide and 3/4 of an inch thick.
The rails,1-inch wide, are steamed to bend and grooved to receive the deck.
They taper from a blunty-pointed stern block, 8 inches long by 21/2 inches deep, to a rounded bow block, 8 inches long by 1 inch deep.
The material of the decks may be 3-ply veneer, or 3/16-inch or, perhaps, 1/8-inch Masonite Tempered Presdwood.
It is joined to the grooved rail with Number 10 flat-headed brass screws every 1 or 11/2 inches.
It is advisable to insert them every inch along the bow and stern.
The seam is made watertight by the use of Jeffery's quality C marine glue and 3/4-inch cloth tape. When closing the seam, first put a layer of glue, then the tape, and lastly another application of glue before the deck is screwed tightly down.
---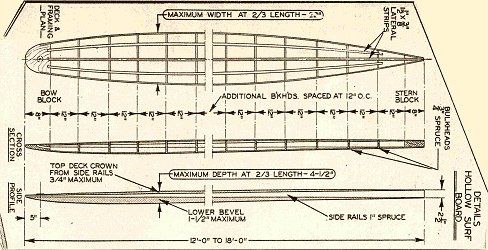 ---
Extra Air Lock to Keep Afloat
In either the bow or stern block a 2-inch deck plug with an air lock is inserted to allow for ventilation, drainage, and air expansion.
A hole drilled into the inner end of the block will connect the valve with the great air chamber.
It should be remembered that, immediately after using, the valve of the water sled must be opened to release air which ordinarily has expanded, especially during a hot day.
Otherwise, there is a chance that the bulging decks may tear loose the screws from the rails.
If you care to add another air lock (which may be a valve from an auto inner lube) you can put an inner tube in the sled which will keep it afloat if you smash it against rocks or wreckage while you have a cargo on it which must be supported.
Accompanying sketch showing man pumping up inner tube does not mean sled itself is inflated.
There would be no point in doing this: The original air lock is there to equalize the pressure inside and outside the sled.
For protection against water which may have seeped into the hollow board, the inside should be treated with oil, paint, or other preservative.
The outside, naturally, is best finished with marine paint covered with several coats of spar varnish.
It will pay an owner of a water sled, especially where salt water is his highway, to wash his decks with fresh water after an excursion and then dry them with a towel.
Like a fishing rod or the deck of a yacht the board may require frequent coatings of spar varnish.
---
---
Gartner, Paul W.: Hawaiian Water Sled is Easy to Build
Modern Mechanix: How to Build It (Annual)
Modern Mechanics Publishing Co.
Minneapolis, Minnesota,1933, Pages 84, 85 and 86.
---

surfresearch.com.au
---
---
Geoff Cater (2007) : Paul W. Gartner : Hawaiian Water Sled, 1933.
http://www.surfresearch.com.au/1933_Gartner_Water_Sled.html
---