| | |
| --- | --- |
| 1953 Paipo/Belly Board 2 ft 11" | #325 |
MANUFACTURE
MANUFACTURER: Backyard
SHAPER:
DESIGN: Paipo/Belly Board - Twin fin
DESIGNER: Unknown
SPECIFICATIONS
CONSTRUCTION
Five ply. Paint. Varnished. Branded image and script..
DIMENSIONS
| | | | | | | |
| --- | --- | --- | --- | --- | --- | --- |
| Length: | 2 | feet | 11 | inches | | |
| Width: | 23 1/2 | inches | | Wide Point, from nose : | -ve 10 | inches |
| Nose : | n/a | inches | | Tail:' | n/a | inches |
| Thickness: | 1/2 | inches | | Pod: | 15 | inches |
| Weight/ | | inches | | Volume: | | inches |
| Nose/L: | 0 | inches | | Tail/L: | | inches |
---
FEATURES
Nose: semi pin/round
Tail: Concave
Deck: Flat.
Bottom: flat
Rails: rounded square
Rocker: miminal/nil nose lift
FINS:
Two, 3 3/4" x 9 3/4" base @ 2 1/2 inches
Long base keel fins
1/2 '' thick plywood timber.
IRB inscription on fin.
Probably mitred and glued.
DECOR
DECALS:
Deck:
Bottom:
MARKINGS
Deck: Kilroy - Foo was Here, burnt artwork
Bottom: IRB inscription on fin.
COLOUR
Deck:
Bottom: clear/natural

NOTES
BOARD HISTORY
Dimensions and photographs Sydney Surf Auction, Harbord Diggers Club, Sydney, 29 October 2006.
Catalogue No. 225
" BELLYBOARD IN PLYWOOD c1950's 9/10
Crude tomstone shape twin keel fins, rope handles. IRB inscription with fun 'Kilroy' style artwork on deck."
Catalogue Notes by Mick Mock, PO Box 330 Manly NSW Australia 2095.
Thanks to Mick Mock.
COMMENTS:
REFERENCES
Other Boards
See Paipo # 113 ,
Surfworld Museum, Torquay Victoria. : Lamaroo # 26
See Paipo Catalogue
Books
Margan and Finney Photographs, pages 152 - 156
CONDITION: 9.5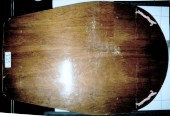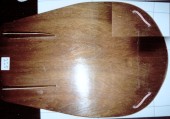 bottom

---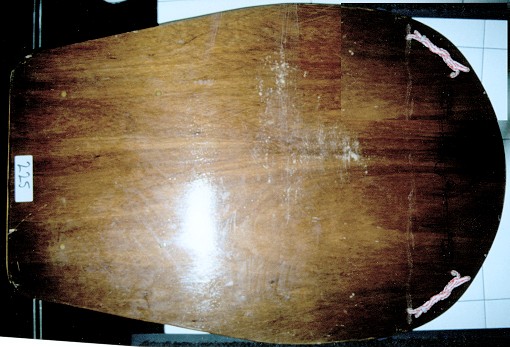 ---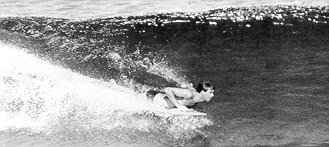 Plywood belly board, Margan and Finney Page 156

Leigh Tingle reports...
The photo at bottom of page of a bellyboard rider is me.
Taken at Haliewa Oahu January 1964 using an existing balsa fibreglass bellyboard made by Scott Dillon, Noel Ward and Gordon Woods in February 1958.
It is now 43 years old and still going strong.
If I remember correctly the photograph was from the Surfabout magazine.
A replica of the board has just been finsihed by my son Sam for a school Tutorial Task.
Many thanks, Leigh.

surfresearch.com.au