| | |
| --- | --- |
| 1966 Gordon and Smith, Bobby Brown/Floyd Smith 9 ft 3" | #157 |

MANUFACTURE
MANUFACTURER: Gordon and Smith Surfboards Captain Cook Drive Caringbah
SHAPER: Floyd Smith
DESIGN: Bobby Brown Stringerless Model
DESIGNER: Bobby Brown
SPECIFICATIONS
CONSTRUCTION
Stringerless foam blank with volan glass, knee/fin patch ?,
DIMENSIONS
| | | | | | | |
| --- | --- | --- | --- | --- | --- | --- |
| Length: | 9 | feet | 3 | inches | | |
| Width: | 23 | inches | | Wide Point: | -ve 6 | inches |
| Nose : | 17 | inches | | Tail: | 16 1/2 | inches |
| Thickness: | 3? | inches | | Pod: | 9 | inches |
| Nose/L: | | inches | | Tail/L: | | inches |
| Weight : | | kilos | | Volume: | | litres |
| Other | | inches | | | | |
FEATURES
Nose: Round
Tail: square
Deck: flat
Bottom: circular concave nose, ( flat, slight round?)
Rails: thin/round
Rocker: distinct
FIN
11 3/4" x 7 1/2" base.
Blade/Bing Surfboards USA variation
White pigmented cross-stand/boat mat.
Not the original fin, but a copy.
DECOR
DECALS
Deck: ???
Bottom: small large "BOBBY BROWN" red (faded), "stringerless" black text and small "Gordon and Smith" red/black rectangle - in nose concave. Image left.
MARKINGS
Deck: Paul Cole 8683 (pencil on tail???) - shaped for.
Bottom:
COLOUR
Deck: Clear, deck patch?
Bottom: fin patch?
Red/white Randwick Council Surf Craft Permitt 1968-1969 #1573
NOTES
BOARD HISTORY
Purchased used 19xx? Current owner : Bill Morris
The original fin was lost in 19xx? at Coolangatta Queensland? but was replaced with one based on the template of a similar board/fin.
Fin repacement by xxx Surfboards 19xx
Photographs : DV8s Old Mal Rally, April 2001. Thanks to Bill Morris.
DESIGN HISTORY
The board design was given positive exposure with publication of a series of photographs by Jack Eden, published in his Surfabout magazine, circa 1967.The photographs of Bobby Brown's dynamic surfing at 8ft plus Sandown Point only further enchanced his considerable reputation, see example below.
One particular shot is regularly reproduced, on one recent occassion credited as Nat Young
Bobby Brown passed away in 1967.
COMMENTS
1. Black Bobby Brown decal does not indicate the board was shaped by Bobby Brown.
2. Concave section is an unusual application and does not cornform with current concave flow theory.
3. Floyd Smith was an original partner in the US company who travelled to Australia and formed the Australian company at Caringbah, circa 1965.
REFERENCES
1. Margan and Finney pages 219, 232 - 233, 236 - 237, and others.See below.
2. Bobby Brown is featured in The Hot Generation, Parts 2 and 5.
CONDITION: 8.5 -minor staining, non original fin
---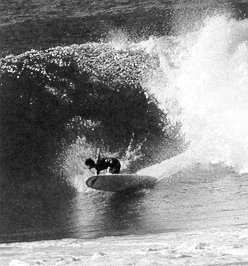 Fully committed bottom turn, Sandown Point circa 1966
Bobby Brown/Gordon and Smith Stringerless
Photograph : Jack Eden.
Printed in colour Margan and Finney page 232.

surfresearch.com.au