university of sydney boardriders 1970
---
---
university of sydney boardriders
1970- 1972

---
The following documents have been transcribed from poorly preserved paper clippings.

---
FORMATION 1970
The following notIce and photograph appeared in the Honi Soit/The Union Recorder,
circa April 1970.
---
SURFERS' CLUB ON THE ROAD
LAST FRIDAY the Surfriders' Club had its first meeting for this year.
Proposed at the meeting were contests, safaris, movie showings. Enthusiasm was the word and it was decided that the first contest would be held at Garie Beach on Captain Cook Day, 29th April. Those interested will meet at 6.30 a.m. at the beach. If enough learners attend, a beginners' event will be held.
The next meeting will be held at the Mens Sports Union, Fri. 24th April to finalise problems of transport to Garie, also arrangements for the May vacation Inter-Varsity contests, and election of office bearers. All new members will be welcome.
---
---
Sydney University Surfriders' Club Members.
Wategoes Beach,
Byron Bay, 1970.
Members (possibly)include:
Geoff Cater
Dennis Myers
John Kukec
Ian Nicol
Mark Wilson
---
CONTEST POSTER, circa 1972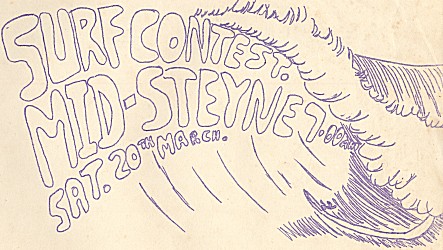 Contest poster, March 20, 1972
Art work by Geoff Cater, Lettering by Bruce White
Concept ripped off from George Greenough's Inner Most limits of Pure Fun Poster, circa 1970.

---
INTER-VARSITYCONTEST NEWS LETTER , circa 1972
Two page, hand wtitten notice by Bruce White
---
Sydney University Surfriders Association
In the third week of the May Vacation, ie Sunday 24 - Saturday 30, there will be an Intervarsity Surfriders competition.
Programmed as follows :
Sun 24 - General teams meeting at Collaroy.
Mon 25 - Round 1 Teams Contest
Heats of Individuals Contest
Tues 26 - Remaining Individuals Heats & Quarter Finals and Quarter Final Repecharge
Wed 27 - Free unless anything from Tuesday unfinished.
Thurs 28 - Round 2 Teams Contest
Fri 29 - Semi, Semi Repecharge & Finals of individuals contest.
Sat 30 - Combined Unis vs A Sydney Club.
A.S.A. Judges will be employed.
Will all semi-finalists in the last 2 contest held by the SUSA reply as to whether they will be able to attend & compete. The following surfers will be considered for selection...
(i) Leonard Allen
(ii) Steve Ash
(iii) Peter Barrington
(iv) Angus Begg
(v) Randall Burke
(vi) John Bushell
(vii) Mick Cole
(viii) Steve Edwards
(ix) Mick Faye
(x) Peyter Ford
(xi) Ken Grieves
(xii) Peter Kelleher
(xiii) John Kukec
(xiv) Ian Nicol
(xv) Don Robertson
(xvi) Rob Saunders
(xvii) Max Standiford
(xviii) Bruce White
(xix) Mark Wilson
N.B. All in alphabetical order so don't think big Mr. Allen
Please ring Ian Nicol - at 451 - 7427 if you are able to compete.
The host university requires $5.00 from each competeing surfer to pay for social activities (as yet no details have been recieved (sic) of these functions).
This will be collected at the Captains Meeting on Sunday 26th at 5p.m.
All captains are required to attend this meeting.
If it is possible to make either the teams meeting or the captains meeting, a further will be held on Monday 25 th at North Narrabeen at 7.00 am to decide the venue of the contest for the day and the naming of the teams.
The 1st captains meeting will be held at UNSW's teams residence at Avalon - New barrenjoey Rd, Avalon Beach (opposite Beach)
BRUCE WHITE
(SECRETARY)
---
Notes :
1. The semi-finalists list, above is the only known record of membership. Others...
Geoff Cater
John Morgan
Dennis Myers
2. There was no "Combined Unis vs A Sydney Club" contest.
3. The function "no details have been recieved ", was a presentation at the Manly Hotel, Friday 29th May 1972.
---
INTER-VARSITYCONTEST REPORT , circa 1972
The following notIce appeared in the Union Recorder,
15 June 1972 Vol. 52 No. 12 .
---
INTER-VARSITYSURFRIDING
COMPETITION

Host was Sydney Uni who conducted the competition from Manly to Palm Beach, and some excellent competition was witnessed, especially between the two universities - U.N.S.W. and Sydney - closely followed by Newcastle. The standard was very high and the students from all universitiies were a credit to their respectIve unIversitIes.
The judges were of international class, being involved in the National C:bampionship the week before, and~ spoke very highly of the competition.
Full credit in organisation must go to Geoff Carter (sic) who dedicated his time to makIng the whole week a huge success.
Mr Thor Sevenson (chief judge) wrote in a letter to the University: :

We very much enjoyed being associated with all of you;
we made many good friends and our impression of
Australia's young people went up many notches.

..The conduct and manner in which all universities approached the surfriding competition brings an arguementt to Inter-Varsity competition when you consider most people only think of the social side, whereas this competition was the opposite - no social,but straight out trying to win, by all the comtestants (sic).
Final results:
I. U.N.S.W. 81 1/2
2. Sydney. 71;
3. Newcastle 67 1/2;
4. ANU 621/2
5 Monash 46 1/2
6. Macquarie 321/1
7 Latrobe 30
.8.Melbourne 261/2
Individual Uni Campionship
1. C. Parry (Newcastle)
2. J. Morgan (Sydney)
3. I. Norris (UNSW)

---
Notes :
1. Surf averaged 6ft for the week.
2.Contest venues included
Warriewood, Palm Beach, North Narrabeen and Queenscliff.
3. Individual Uni Campionship : 1. Chris Parry. 2. John Morgan. 3. Ian Norris.
---
| | |
| --- | --- |
| Bruce White and Gordon Woods Malibu, 1964. | Bruce White and San Juan Egg, 1972. |
---
Thor Svenson
Head Judge, Inter-Varsity Contest
Sydney 1972
Image cropped from Carter, page 33.

Kim Fly Bradley
Assistant Judge, Inter-Varsity Contest
Sydney 1972
Image from Falzon : Morning of the Earth, 1972
---
Ken Grieves
Palikir Pass, Pohnpei Island, 2010.

Photograph: Mitch ?
---
Bruce White
Palikir Pass, Pohnpei Island, 2010.

Photograph: Ken Grieves
---
Page supported by

---

surfresearch.com.au
---
---
BRUCE'S DOODLE, circa 1971-2.
Adult Content
May Offend
If you are under 18 years of age, scroll away now.

---

"THE STORY OF S.U. SURFRIDERS ASSOCIATION"
The old question of the phallic nature of surfboards once again rears it's head....
Story, Art and Lettering by Bruce White.
Doodled on a manilla folder cover, during a Sydney University Surfriders meeting, circa 1971-2
Note the original has five blank panels before THE END.

---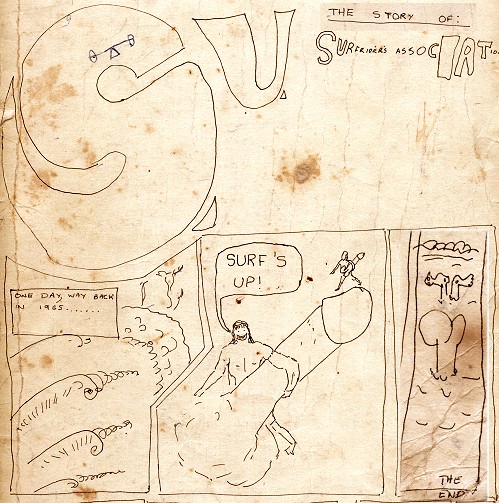 ---