pods for primates : a catalogue of surfboards in australia since 1900
---
---
surfresearch.com.au

plans and specifications : blake hollow
1937 Tom Blake Hollow Paddle Board
Australian Racing 16, Cigar Box, Kook Box
---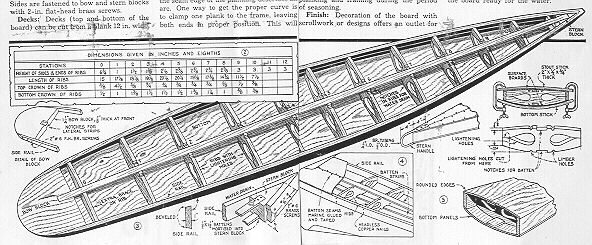 ---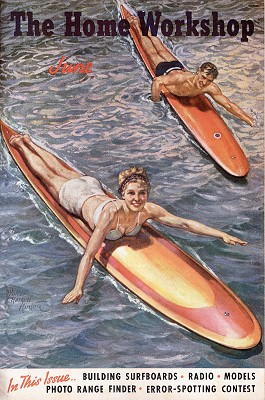 ---
Tom Blake : Riding the Breakers on this Hollow Hawaiian Surfboard -
Popular Mechanics Magazine
July 1937 Volume 68 Number 1
pages 114 - 117
---
---

Reprinted in : How to Build Your Own Canoe, Kayak or Surfboard, Number 30
Poplular Mechanics Press, 200 E. Ontario Street Chicago 11 Illinois.
Copyright 1940, Second printing 1946.
---
Notes
First designed in 1926 by Tom Blake based on 16 ft ancient Olo board, and lightened by drilling the board full of holes then covering them with sheets of plywood.
This success, primarily as a paddleboard, was followed by the common hollow design of plywood covering over a light wood frame, with a bung.

On 18th April, 1931 Thomas Edward Blake submitted three pages with a detailed drawing for a ' Water Sled'. and was subsequently granted US Patent No. 1,872,230 by the US Patents and Trademarks Office, Washington DC.

Apart from competitive success in many paddling races, Blake published construction plans, e.g. Popular Mechanics, 1937, with the result that his design was used throughout the then surfing world.
This had definite influence in Peru (first surfers), New Zealand and Australia, where it first appeared as the Australian Racing 16.

In 1945 the Surf Life Saving Association of Australia issued plans for the approved design of a Hollow Surfboard.
These bore close resemblance to Blake's plans of 1935, above.

---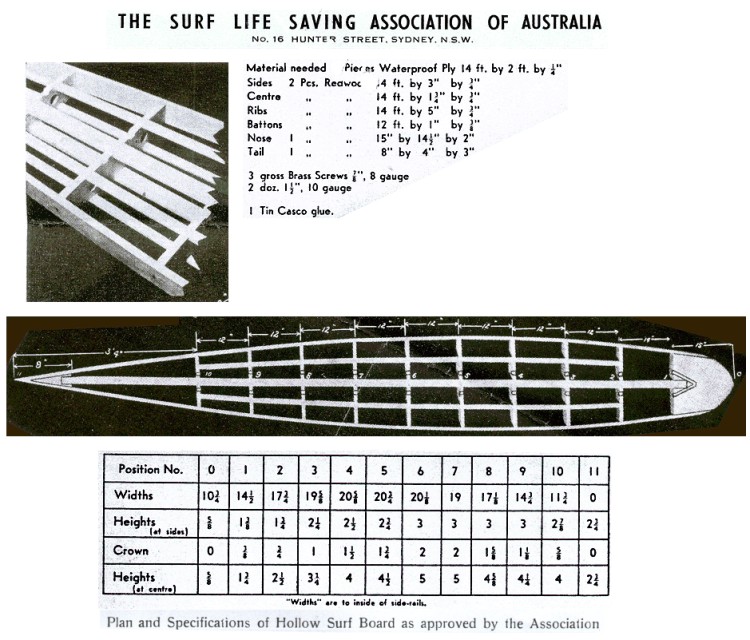 Image has be manipulated to improve legability.
Source : Unknown.
---
In 1957 the construction method was used to make hollow examples of the Malibu board (Okinuee) when balsa wood was unavailble in Australia, and was similarly used in New Zealand up to 1961.
---

surfresearch.com.au
---
---