pods for primates : a catalogue of surfboards in australia since 1900
---
---
surfresearch.com.au
the catalogue #345
---
| | |
| --- | --- |
| 1958 Belly Board 4' 0" Rider: Leigh Tingle | #345 |
---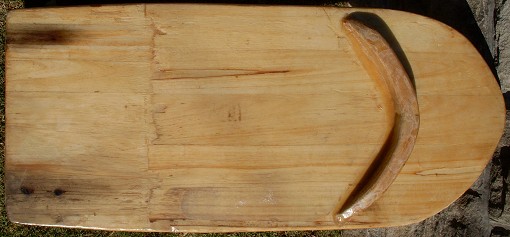 ---
MANUFACTURE
MANUFACTURER: "Scott Dillon and Noel Ward created the blank from balsa board offcuts"
SHAPER: "Gordon Woods"
DESIGN: Belly Board - Twin fin
DESIGNER: Unknown
---
CONSTRUCTION
Balsa blocks laminated to form blank. Fibreglassed. Fibreglass fins. Timber hand grip.
---
DIMENSIONS*
| | | | | | | |
| --- | --- | --- | --- | --- | --- | --- |
| Length : | 4 | ft | 0 | inches | L2: | |
| Width : | 21 | inches | | Wide Point : | +ve 9 | inches |
| Nose : | | inches | | Tail : | 20 1/2 | inches |
| Thickness : | 2 | inches | | Pod : | ?? | inches |
| Nose Lift : | | inches | | Tail Lift : | | inches |
| Weight : | | kilos | | Volume : | | litres |
| Handgrip: | 1 1/2 | inches | @ | 10 inches from the nose | | |
* Converted from metric dimensions on the plans below.
---
FEATURES
Nose: round
Tail: Square
Deck: Vee shaped hand grip near nose
Bottom:
Rails: flat
Rocker: miminal nose lift
---
FINS
Two D fins.
Fibreglass.
4" x 5" base x 0'' span @ 1/2''.

* Converted from metric dimensions on the plans below.
---
DECOR
DECALS:
Deck:
Bottom:
MARKINGS
Deck:
Bottom:
COLOUR
Deck: clear
Bottom: clear
---
NOTES
DESIGN HISTORY
Bruce Usher noted in a profile on John Cormack in Australian Long Boarding (circa 2002-2003):

"1958 , John and family friend Barry stark collect their first custom boards from Bill Clymer.
A balsa pig for £28/-/- to John and to thirteen year old Barry Stark who lived at the Pittwater Road end of Pacific Parade a "Loomeroo" for £10/-/- (similar to a piopo board).
- noted by Bob Green, August 2013, with thanks.

BOARD HISTORY
In about 2004, Leigh Tingle emailed the following comments in relation to catalogue entry #113:
The photo at bottom of page of a bellyboard rider is me.
Taken at Haliewa Oahu January 1964 using an existing balsa fibreglass bellyboard made by Scott Dillon, Noel Ward and Gordon Woods in February 1958.
It is now 43 years old and still going strong.
If I remember correctly the photograph was from the Surfabout magazine.
A replica of the board has just been finished by my son Sam for a school Tutorial Task.

In July 2008, Leigh forwarded several images and the following information (edited):
I have written to you before with regards to the photo in #113.
That is me in the photo at Haliewa.

Attached is a photo of the board as it is today.

Scott Dillon and Noel Ward created the blank from balsa board offcuts and Gordon Woods shaped the board.

The design is based on a bellyboard we saw in a movie at Coogee Surf Club in November 1957, (perhaps ridden by George Greenough?).

Probably Bud Browne's Surfing in Hawaii (1957) or The Big Surf (1957) which "premiered at Quenscliff SLSC before an overflowing audience of 600, and were soon screening at other Sydney life saving clubs, and even in a tent at Whale Beach, where they were seen by a teenage surfer, Paul Witzig."
- Thoms: Surfmovies (2000) page 69.

Also note, when the American lifesaving representatives first appeared with their new Malibu boards at a public event, Cronulla Beach on Saturday 17th November 1956, they also had a short twin fin (?) belly board.
- can't find reference, but a relevant photograph is in a recent book, a History of the Cronulla SLSC (2010?)

It is possible Woods, or other builders, noted this board and later reproduced it when inspired by Browne's footage

It is 4 foot long and 21 inches wide and is covered with fibrelgass and with fibreglass fins.
It has been reglassed three times and is now 51 years old.
I still use it regularly, mainly at Curl Curl Beach, Sydney.

In 1964 I took it to Hawaii and used it at Sunset, Waimea, Pipeline, Haliewa and Makaha.
I have an MPG file of some of these locations with me riding the bellyboard.
Others who were there at the time included Scott Dillon, Ross Kelly (was President of the ASA) Barry Kelly, Peter Troy, Barry McGuigan (Magoo), Midget Farrelly, Nat Young.
(Some footage of this Hawaiian trip was possibly included in Bob Evan's The Young Wave Hunters (1964) and reprised in his 1968 compliation, Ride A White Horse, and released on DVD in 2009.)

Upon my return I was the Treasurer of the ASA and NSWSA for 6 years.

COMMENTS:
REFERENCES
Other Boards
Plywood Paipo #204
Surfworld Museum, Torquay Victoria. : Lamaroo # 26
Also see Paipo Catalogue
Books
Margan and Finney (1970), photographs pages 152 -156.

Magazines
Image right:
Wardy Surfboards presents the new Hawaiian Belly-Board ... features solid wood handle and double fins.
Advertisement: Wardy Surfboards 525 Forest Avenue, Laguna Beach, California.
Surfer Magazine, Volume 6 Number 5, November 1965, page 20.

CONDITION: 9.5
---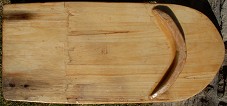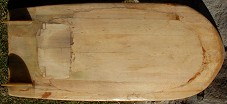 ---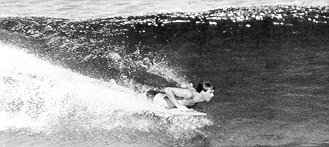 Leigh Tingle, Haliewa, January 1964.
Fibreglassed balsa belly board with hand grip.
Margan and Finney (1970) page 156.
---
---

---

Plans and metric dimensions by Leigh Tingle, July 2009.
---

surfresearch.com.au
---
---