pods for primates: a catalogue of surfboards in australia since 1900
---
---
surfresearch.com.au

museums : surfworld
Surfworld Museum, Torquay, Victoria.
---
The Surfworld Museum
Surfcoast Plaza, Beach Road Torquay, Australia
Phone : 61 03 5261 4606
Email : surfworld@surfcoast.vic.gov.au
Contact: Jeff Arkinstall

---
Entry 3, October 2007
email by Jeff Arkinstall:

"Geoff: wen reading through your informative website, I noticed the below statement.(Entries 1 and 2)
Could we please have the current statement altered to read as per below.

Surfworld, is the world's largest surfing and beach culture museum.
Surfworld has a brand new website which is updated on a regular basis.
Please feel free to go to www.surfworld.com.au to view.

Surfworld was first opened in December 1993 and in 1994 was recognized as one of the most significant centres of world surfing heritage by the International Surfing Association.

As a nation, we share an affinity and connection to our ocean environments, which has helped shape our identity and given us a sense of belonging.
Surfing and beach culture has been synonymous with Torquay and the town continues to emerge as a significant surfing region that is recognized worldwide.

Surfworld is important in preserving, capturing and celebrating the historic achievements, technology and ever-developing surf and beach culture and lifestyle.

It features a wide range of high quality, stimulating visual exhibitions and educational programs, which are informative, interactive and accessible for future generations.
Opening hours
Surfworld is open daily from 9am to 5pm, seven days a week excluding Christmas Day."

---
Entry 2, circa 2003.
Hi Geoff
My name is Steve Clancy, I manage the Surfworld Museum.
I have been checking out your very informative site.
I have a couple of changes to the information relating to Surfworld.
Phil Rich is no longer the manager/curator.
Our email address is torquayvic@iprimus.com.au
We have a website, www.surfworld.org.au
If anyone wants a copy of our catalogue, if they contact me I am more than happy to email or mail one out to them.
I would appreciate it if you could update this info on your site.
Thanks
Steve Clancy
---
Entry 1, circa 1999.
Surfcoast Plaza, Beach Road Torquay, Australia
Phone : 61 03 5261 4606 Email : surfworld@ne.com.au
Curator : Phil Rich
Contact: Noel Pittaway
An extensive collection,unfortunately the catalogue is not available on their web site.
A hard copy is available by mail, if your are very nice.
---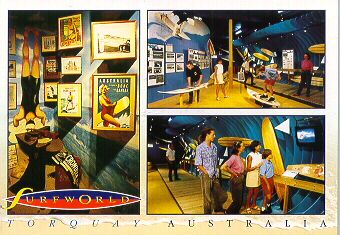 ---

surfresearch.com.au
---
---