pods for primates: a catalogue of surfboards in australia since 1900
---
---
surfresearch.com.au

history : balsa
---
balsa, 1958
---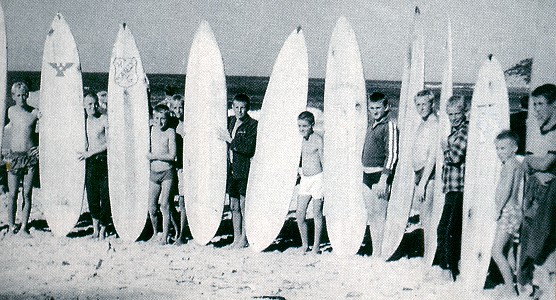 Junior Surfers, Manly 1958.
Centre/Jacket : Sugar Ray Robinson. Right/Checked Shirt : Midget Farrelly
Early printing : Surfboard Designs in Modern World magazine
July 1971 pages 30 - 37. Editor: Dick Levine
Reprinted in Nat History, 1983, page 89. Photograph : Snowy McAlister
---
1958
First balsa shipment late 1957.
Malibus 9'6 " - 10' Pigs plus 8ft Guns plus11 ft 6"
balsa/fibreglass based on US designs with glass & wood fins.First all glass fins
ANMM # 00009214 and # 00006710
Surfworld # 39
Jackson/Scott Dillon/

1958
Bodyboard timber and fibreglass adaptation of paipo with more flotation. Miminal scoop, often twin fin.
D: 4 ft 6" x 22" In Victoria these boards were sometimes called a Lamaroo.
Surfworld #26 and #42

Image Right :
Surfboard template roadside signage : Surf Board Rally Long Reef Winter 1958
Cropped from original photograph by Snowy McAlister
Reprinted in Nat History, 1983, page 89.


Bruce Usher noted in a profile on John Cormack in Australian Long Boarding (circa 2002-2003):

"1958 , John and family friend Barry stark collect their first custom boards from Bill Clymer.
A balsa pig for £28/-/- to John and to thirteen year old Barry Stark who lived at the Pittwater Road end of Pacific Parade a "Loomeroo" for £10/-/- (similar to a piopo board).
- noted by Bob Green, August 2013, with thanks.


---
Image Right :
Robert Conneely and his first board built by Gordon Woods, Bondi, 1958.
Conneely Archive
Reprinted in
Jimmy O'Keefe : A Life in the Sun... The Robert Conneely Story
The Australian Surfer's Journal,
Volume 3 Number One , Summer 2000. Pages 28.

1956-7-8?
Duke Kahanamoku Another visit to Australia, documented in a newsreel item 'Duke Kahanamoku : the man Who Gave Us the Surfboard', (Cinesound Review 1410, 1958).

1959 Greg McDonagh, Scott Dillon experiment with coolite foam & epoxy resins
Bob McTavish Pods for Primates Part 1 Tracks1972.

1959 Crane Industries (Plumbing supply company):, molded epoxy shell joined by black seam tape .9ft6" with moulded fin box -no fin. white deck-green hull, pointed nose round tail

1959 Roger Keiran first shaping machine (balsa),spray gloss & fin boxes
Bob McTavish Pods for Primates Part 1 Tracks1972.
---


Advertisement:


Berlie Sarong Pus, 1959.



Contributed with thanks by Eric Bayliss, November 2014.


---
1961-1962
At the start of the season a visit to the area by members of the South Bondi Boardriders Club [many of whom were members of the Bondi SLSC], was to have ramifications to the local area.
Some members of the Mollymook SLSC had at the end of 1960, locally pioneered surf board riding, using malibus.
They had been able to combine both surfing and surf lifesaving without any problems.
Bob Evans, Ian Hunter, Bob Davidson, Peter Williams and Ivan Johnson were the first, and many of the younger club members over the next few seasons followed on.
The visit of the surfers from other areas like Bondi on 'surfaris' seeking out new, unspoiled waves, introduced the youth to a new culture that did not include surf lifesaving in the equation.
Basically it meant a competition in coastal areas for the pool of local youth which has continued on ever since.
Photograph: The first boardriders. From Left Ivan Johnson, Bob Evans and Ian Hunter.
- Johnson: Mollymook SLSC (2010) page 32.
Photograph: 1962-1963 Bob Cairns, club member posing in his 'neck to knee' costume (and balsa pig board).
- Johnson: Mollymook SLSC (2010) page 25.
---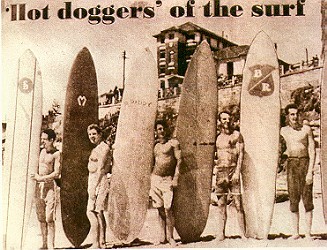 Malibus and Pigs, Bondi 1958.
Source : Unknown, probably newspaper cutting.
Second left : Possibly Bluey Mayes.
---

surfresearch.com.au
---
---

REFERENCES FOR THIS SECTION

books
1959 Bloomfield, John Know-how in the Surf
Angus and Robertson 89 Castlereagh Street, Sydney

1961 Harris, Reg. S.The History of Manly Life Saving Club 1911-1961
Published by Manly Life Saving Club, NSW Printed by Publicity Press Ltd.

1966 Finney, Ben and Houston, James D. : Surfing – A History of the Ancient Hawaiian Sport
Pomegranate Books P.O. Box 6099 Rohnert Park, CA 94927 Reprint 1996

1968 Kahanamoku, Duke With Brennan, Joe: Duke Kahanamoku's World of Surfing
Angus and Robertson Publishers Sydney , Australia 1972 2nd Edition A&R Paperbacks, Sydney , Australia

1970 Margan, Frank and Finney, Ben R. : A Pictorial History of Surfing
Paul Hamlyn Pty Ltd, 176 South Creek Road, Dee Why West, NSW 2099.

1964 Pollard, Jack (ed.): The Australian Surfrider
K.G.Murray Publishing Co.P/L,142 Clarence Street , Sydney Australia

1972 The Best of Tracks (Vol. I) Editors : Falzon, Albert; Stewart, John; Grissim, John. :
Tracks Publishing Co Pty Ltd. P.O. Box 178 Avalon, NSW.
'Bob McTavish's Personal History of Surfboard Design – Pods for Primates Parts 1' (pages 120 – 122).

1992 Stell, Marion K. : Pam Burridge
Collins Angus & Robertson Publishers (Australia) Pty. Limited
A division of Harper Collins Publishers (Australia) Pty. Limited
25 Ryde Road, Pymble NSW 2073, Australia

1997 Warshaw, Matt : Surfriders – In Search of the Perfect Wave
Tehabi Books, Inc. Collins Publishers, 10 East 53rd Street, New York, NY 10022

1978 Warwick, Wayne A Guide to Surfriding in New Zealand Second Edition
Viking Sevenseas Ltd Wellington, New Zealand

1979 Young, Nat ; Photographs by McCausland, Bill: Nat Young's Book of Surfing
A.H. & A.W. Reed Pty. Ltd. 53 Myroora Rd, Terry Hills, Sydney.

1983 Young, Nat with McGregor, Craig : The History 0f Surfing
Palm Beach Press,40 Palm Beach Road, Palm Beach NSW 2108

---

film
1985 A History of Australian Surfing Nat Young.

---

magazines
1971 Modern World July Shane Steadman/Terry Fiztgerald (possibly) : 'Surfboard Design' pages 30 to 36.

1972 Surfing World. Volume 16 #4. Bob Evans : 'remember the time when...' pages 30 to 35.

---

web sites
Malcom Gault-Williams: LEGENDARY SURFERS
---

surfresearch.com.au
---
---