NOTES
DESIGN HISTORY
In Australia this design had a short but well publicised life circa 1971 - 1972.
Following the experimentation with the Twin fin 1, several designers used variations of tri-fin configurations. The rail fins were usually small and long based, the inside often foiled flat. Position varied enomously from behind to well in front of the central fin.
This early experimentation established the principle that pocentral fin would stiffen the board and make it track, while a position in front of the fin would loosen up the board and make it msitioning behind the ore manourvable.
Narrowing the angle of attack and tipping out of the side fins was a progressive process that produced the Cambell Bros.' 1973 Bonzer, a combined fin and bottom design based on Ruellego Delta designs. The original design , with leading rail fins, was retained on many kneeboards 1971 to 1976, see Crozier #58
The Tri fin was to reach its peak with the development of Simon Anderson's Thruster (1981) design, placing three similar fins at the tail extemities to maximize manouvreability in small waves. It was subsequently found to superior to all previous designs.

OTHER TRI FIN EXAMPLES
Barry Bennett/Bob McTavish # 9
Plastic Fantastic/Danny Calohan, # 211
Crozier Kneeboard# 58

REFERENCES
Film
1. David Nuuhiwa in John Severson's Pacific Vibrations , released circa 1971-2
2. David Sumpter's On Any Morning, released circa 1971-2
Burleigh Heads (second last sequence) in.
Ric Neilson : Blue bottom/red spray deck Tri fin - central wood veneer fin and two long base keel fins on the rails.
Paul Neilson
Jeff Hackman : Offset two tone, white/orange, Tri fin - two long base keel fins on the rails.
Unknown : standard Bonzer design, seen laying on grass.
Magazine
Article
Mike Davis : Design Through Development
The Best of Tracks 1973 - factory photo, below.
Advertisement
Bennett Surfboards :The Three Ingredients to a Quality Surfboard '
Surfing World magazine Vol 16 # 1 1972 .

COMMENTS
The board has a diminished rail lap on the bottom to reduce weight.
See Steve Core : Surfboards Today
Surfing World Magazine Volume 14 Number 4 Pages 69 - 70.
Post production rail fins.
The board has significant warp, large fracutures across the bottom of the board and some knee well delamination in the deck
Extensive water staining has bleached much of the laminated tint.
.
CONDITION: 5.3
---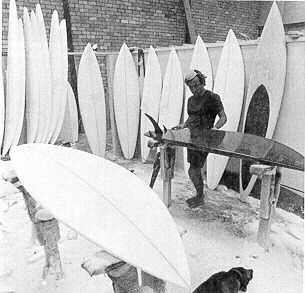 Bob McTavish, Tri fin and Dog,
Barry Bennett Surfboards, 180 Harbord Road, Brookvale 1971
Photographer unknown.
From... Mike Davis :Design Through Development in The Best of Tracks 1973.
---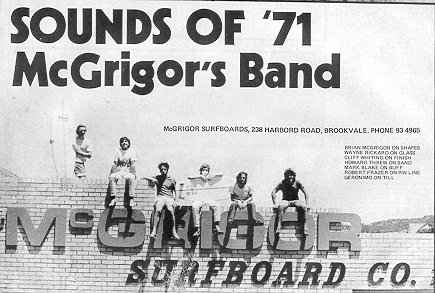 Mc Grigor Surfboards Advertisment
Tracks magazine, January 1971 Number 4
Note : The two boards shown are in fact Twin Fin 1
Text reads : on shapes. on glass, on finish, on sand, on buff, on pinline, Geronimo on till.